In theory, the pandemic should be pushing the industry towards greater automation. Yet in the short term, grocery has gone the opposite way. Why?
Before the pandemic, investment in automation and robotics was booming. Take Tesco. Last summer, it announced plans to establish 25 highly automated 'urban fulfilment centres' by 2022, three of which would be built by the middle of this year.

The goal was simple: to pre-empt a greater movement to online. The centres, located at the back of stores, would use the latest tech to improve picking efficiency by a factor of two or three, enabling Tesco to almost double its online sales over the next three years.

The supermarket was also busy honing its in-store experience. At its Welwyn Garden City HQ, Tesco was refining its cashierless store concept, having made an equity investment in Israeli frictionless checkout startup Trigo. Once ready for rollout, the technology would make human cashiers practically obsolete.

The arrival of covid-19 has given both these operations a newfound importance. Not only are customers trying to find contact-free ways of paying in store, but they're trying to avoid stores altogether where possible.

Demand for online deliveries has gone skyward, and retailers have had to adapt rapidly. In the past few weeks Tesco.com has doubled its online capacity to reach the previously unthinkable number of 1.2 million orders a week - a rate of two orders per second.

So in theory, covid-19 should make technological developments all the more important. Yet in the immediate response, tech has taken a back seat at Tesco. Its UFC project is on ice, and work has halted on its cashierless store concept. Instead, Tesco's three-year ambition to double its online capacity has happened in a matter of weeks - thanks chiefly to human labour. What CEO Dave Lewis has branded "probably the biggest grocery delivery business in the world" comes from some 90% of online orders being picked by hand from stores.
1.2m
Tesco delivery slots a week, double the number available six weeks ago
Source: Tesco
"We've hired over 12,000 new pickers, 5,000 new drivers. We've brought on stream hundreds of new delivery vans. We've started picking at 2am," explains Chris Poad, Tesco's MD of online.

Tesco isn't alone in its massive recruitment drive. Iceland has increased its number of orders from 100,000 to 500,000 a week after hiring 3,200 workers to pick in stores. And Waitrose this month boosted its online arm by opening a new CFC in London to help double online grocery orders in the capital, that will initially require 370 new workers, rising to 850 at full capacity. Morrisons "more than doubled the number of weekly home delivery slots" by hiring 2,500 order pickers and drivers, and 1,000 more to work in its distribution centres

It's a similar picture across all supermarket operations. In-store staff have not been removed and replaced by AI: instead thousands more have been hired, sent to work with PPE and shielded by Perspex screens.

There is a reason for this. Because in the short term, it's far easier to increase manpower than suddenly upscale tech. Take Ocado. Although it has embarked on a recruitment drive of its own, it is limited by the finite capacity of its heavily automated operations, with no option of store picking. As much as it has benefited, it has been victim to its highly automated model. Just when its automated alternatives to human workers were needed most, they were not ready, not available - and not scalable. Ocado actually closed its doors to new customers in early March after reporting demand 10 times higher than normal.

And the addition of close to 2,000 new drivers and warehouse operatives throughout April could only do so much. "Even running our warehouses 24/7 with new colleagues to support us, we cannot deliver to more than 250,000 homes in any given week," said Ocado Retail CEO Mel Smith last month. "No matter how hard we work, we simply do not have the capacity right now to meet all the demand we are seeing from existing customers, let alone new ones."

Instead, Ocado's most effective move has been the decidedly low-tech strategy of stopping the sale of bulky bottled water to free up van space - but even that results in delivery to just 6,000 more homes a week.
20%
of online grocery shoppers doing so for first time
Source: Fabric consumer survey
Still, don't write off tech just yet. While it may have struggled to cope with the short-term shock of the pandemic, the virus could prompt greater adoption in the longer term. Covid-19 will "turbocharge" the investment cycle in automation that had already been accelerated by Amazon's buyout of Whole Foods Market, believes Rueben Scriven, lead e-commerce analyst at Interact Analysis.

His company has revised its grocery warehouse automation forecasts, putting the global market at just under a billion dollars larger in 2021 than it had previously predicted.

The market figures explain why. Kantar data shows online sales now account for 10.2% of the grocery market, up from 7% earlier in the year. In the second half of April, a third of consumers ordered groceries for home delivery, according to a Harris Interactive survey, up from 24% in March. Although that could go down once the pandemic is over, Interact Analysis forecasts that online grocery levels will continue to remain high.

The intentions are certainly there. A consumer survey by robotic warehouse firm Fabric found retailers have secured thousands of new customers, 70% of whom plan to continue shopping online for the duration of the pandemic and beyond. The effect: "formidable and long-lasting impact on online sales penetration".

"While the acceleration of online grocery adoption has already been staggering, our survey results give a strong indication that the biggest surge is yet to come," the company concluded.
Workforce costs
Of course, supermarkets could continue to meet that demand with an increase in labour. But that solution doesn't come cheap. In Tesco's preliminary results last month, for example, it said it was incurring "significant additional costs, particularly in payroll as we recruit additional colleagues to meet demand". Similarly Morrisons said extra workers "came at considerable cost".

Such costs are unsustainable in the medium and longer term, says supply chain consultant and former Amazon executive Brittain Ladd. "Grocers need to better leverage their stores, and automation allows them to reduce labour costs and increase efficiency, customer safety, revenue and profits," he says. "Grocery retailers that don't automate will soon be like the famous Turner painting 'The Fighting Temeraire'. They will watch faster and more automated grocers take their customers and market share." As well as reducing labour costs, there is the spectre of widespread staff illness that could leave current operations unviable.

"Warehouse workers and frontline workers becoming ill and dying, as well as walking off the job, will increase, destabilising operations," says Ladd.

Scriven agrees that grocery retailers may "look to reduce the number of staff to avoid potential future bottlenecks in distribution centres as a result of another pandemic".
$6.5bn
size of global automated warehouse market by 2023, up from pre-pandemic forecast of $5.6bn
Source: Interact Analytics
The pandemic has also served to highlight the frailties of the human workforce. Arguments for greater automation carry to the shop floor too. Most of the UK's grocers announced this month plans to provide visors and face masks to their store workers. Several have installed screens at checkouts and social distancing measures have been introduced, with limits on the number of customers in a store at once.

But absenteeism rates due to infection or self-isolation have only this month dropped back into single figures, the BRC says. In contrast, robots don't get sick. A store without a cashier has zero risk of absenteeism.

So the case for automation could also gain ground on the shop floor. "There is certainly a better rationale for automation in grocery now, partly driven by the concerns many have about workers handling product in a sanitary way, but also with high levels of sickness in employees, being able to maintain and even increase throughput in turbulent times being more critical," says Andy Halliwell, analyst at Publicis Sapient.

"With the acceleration of online grocery shopping causing profit problems, combined with the hygiene, health and safety scare stories people have seen, the case for robotics has swung heavily in its favour."
Checkout-free stores
In-store robotics and cashierless store vendors expect significant demand for their technology in coming months. Bossa Nova Robotics says it is "inevitable" the sector will be seeking greater automation in the aisles this year. The company - which in January announced its shelf-scanning inventory robots would be rolled out in 1,000 Walmart stores - is planning for a "very busy Q3 and Q4 continuing into 2021 and beyond", says its Europe MD, Red McKay.

Similarly, checkout-free store builder AiFi is expecting further demand for its technology, which was alreadybeing trialled in European supermarkets like Albert Heijn, Carrefour and Zabka. "The outbreak will accelerate trends that were already underway, leading to more contactless shopping," says head of partnerships Liu Yang.

"Autonomous stores take the checkout process out of the shopping experience. It helps transform stores against infection transmission and builds trust with both shoppers and store staff," she adds.

Eli Gorovici, chief business officer of Tesco-backed Trigo, believes demand for these systems will come from customers. "People do not want to stand in line for a cashier and exchange payment. They expect to keep social distancing and in general would like to spend as little time in a grocery store around other people as possible," he says.
Resilience
For this future to happen, though, technology will need to be more resilient. Just as the sheer spike of coronavirus-related demand overwhelmed Ocado's automated operations, high-tech stores also suffered in the pandemic. Amazon, the leader in checkout-free physical stores, closed 21 of its 25 'Just Walk Out' tech-enabled Go stores in late March due to pandemic pressures.

So don't expect the industry to suddenly invest in high-risk, game-changing technology in the wake of the pandemic. Instead, they will veer towards smaller, reliable projects that can be rolled out quickly, says Scriven of Interact Analysis.

"In the short term, we expect the demand for rapid deployment, plug and play-type automation solutions to be favoured as grocers fear a second spike in the winter," he says. "They don't want solutions which will take a year to integrate."

Scriven points to technology such as mobile robot solutions and autostores, which have "a much quicker integration time", as potential winners in the immediate aftermath of covid-19.
50%
fewer workers to run grocery stores and warehouses by 2024
Source: Analyst Brittain Ladd forecast
In the longer term, it could mean a whole new way of working. Ocado is certainly confident, having opened robotic warehouses for Casino in Paris and Sobeys in Toronto earlier this year. The business is now looking at ways to optimise its operations. Its research into robotic pickers - which stand to remove more humans from the fulfilment process altogether - continues at pace.

"We think long-term finding ways of serving the industry with higher levels of automation are good for consumers and good for the country because they reduce the risks of viruses and epidemics like this," Ocado CFO Duncan Tatton-Brown told The Grocer. While coronavirus has seen the warehouse automation market take a billion-dollar hit this year, growth will accelerate in the coming years, Interact Analysis predicts.

"Absolutely automation will accelerate in the medium term, as it will be one of the ways grocers are looking to battle the challenges of online grocery profitability," agrees Halliwell

Now mostly coping with demand, supermarkets are focused on bringing more automation to their operations to thrive in the 'new normal'.

One thing is for sure: if a second wave of the pandemic were to hit, the industry would want to avoid another mad scramble to tackle the challenges. Technology could ultimately offer a more robust solution.

"To date, countries, cities and companies continue to improvise and decide on the fly how to cope with the rapidly changing situation, resulting in disjointed and inconsistent measures," says AiFi's Yang. "The enormity of the Covid-19 crisis grants automation technologies strategic importance. In the longer term, it will be a critical tool in the war against the unexpected."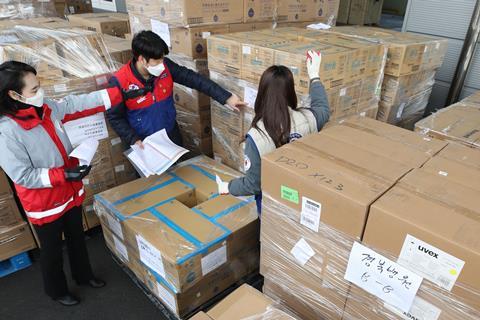 How SARS boosted Alibaba
It had taken almost four years for Alibaba to edge towards profitability. In 2002, Jack Ma and his team were feeling hopeful. Then the potentially lethal SARS virus started to spread across China. In May an employee showed symptoms following a business trip: Alibaba's 400 staff were all sent home to stay in self-imposed quarantine.
"The crisis threatened to end the still-young company. Instead, it turned out to be a watershed moment," the company notes in its history.
With lockdowns in place, Chinese consumers stuck at home started going online to order items. Meanwhile, businesses forced to close their physical stores were seeking online marketplaces to sell their wares. It was great news for Alibaba, and rival JD.com, which rose to prominence at the same time.
Alibaba is now one of the biggest tech companies in the world, and its marketplaces have nearly 700 million monthly active users.
"Seventeen years ago, the e-commerce business experienced tremendous growth after SARS," Alibaba Group CEO Daniel Zhang told investors in December, as Covid-19 began sweeping through China.
"We believe that adversity will be followed by changes in behaviour among consumers and enterprises, and bring ensuing opportunities," he added.