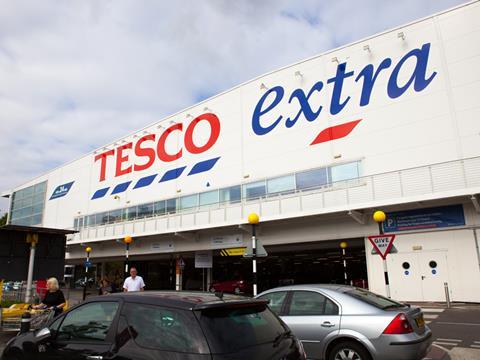 The Kantar Worldpanel supermarket shares figures tomorrow will once again show the discounters devouring the established players' sales.
But this time that data might also suggest that Tesco has finally hit rock bottom and has begun the slow process of recovery.
Certainly the past week has seen a significant share price rally across the sector since the supermarkets plunged to multi-year lows earlier this month.
Tesco has recovered 4.2% since those early August lows, while Morrisons has recovered 9.9% and Sainsbury's is back up 6.8%. This recent rally seems based on the expectation that tomorrow's Kantar figures might for once contain nuggets of positivity.
Tesco's share price fell over 14% from 292p in late July to a low of 241.3p by the end of the first week of August – driven by speculation over forthcoming cuts to its margins and dividend.
But Bernstein senior analyst Bruno Monteyne now predicts: "There is some sign of the ski slope ending for Tesco, with a tick up in the recent data."
Using GoogleTrends data he suggests that Tesco will see a 1.2-percentage point decline in year-on-year market share tomorrow – not usually cause to celebrate, but evidence that the rate of market share loss is slowing.
Tesco's market share shrank by 1.4 percentage points in June's Kantar figures and 1.5 percentage points in May's data. This, according to Bernstein, "does suggest that the slide is at least being slowed for Tesco".
So is Philip Clarke's much-maligned turnaround strategy belatedly taking effect? Probably not.
The main driver for this somewhat better performance appears to be that Tesco is now entering a period of easier comparatives as the company hits the anniversary of the beginning of its rapid slide. Monteyne notes that in February 2013 Tesco had a flat market share, but was 0.6 percentage points down by August 2013.
Morrisons will also continue to lose market share tomorrow, with Bernstein predicting Kantar to come out with a 10.8% share – Morrisons' lowest since September 2007. However, Morrisons is also seeing some stabilisation – it is likely to lose 0.5 percentage points of market share, while it down it was down 0.7 percentage points in June.
Sainsbury's is set to be the only listed supermarket not to lose market share (0.1 percentage points up, according to Bernstein), while Waitrose is likely to grow market share but slip behind Aldi.
Interestingly Asda, so far seen as the victor of the early rounds of the price war, could now start to see its market share come under particularly intense pressure. Bernstein expects Asda's share to drop by 0.1 percentage points because Tesco's easier comparatives should translate to tougher comparatives for Asda. "Asda GoogleTrends performance is very sensitive to Tesco traffic," Monteyne explains.
Whether Tesco's more positive share price movement can continue all the way until Dave Lewis takes control in October is obviously highly debateable. But there is a feeling that the market has priced in any nasty surprises on dividends and margin already - in that sense getting some of Lewis' bad news out of the way for him.
Lewis clearly faces a huge task to create a compelling growth strategy across the group, but it could be that the weak 2013 comparatives and Tesco's recent share price plunge have given Tesco the feeling of a business embarking on a turnaround before he even steps through the front door.