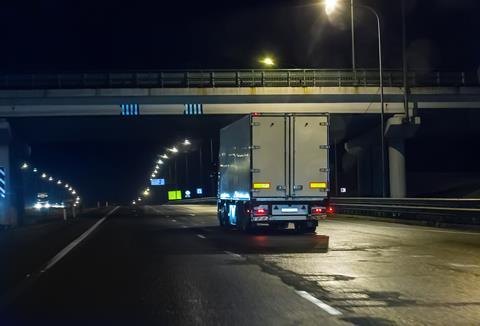 Food industry leaders say they were accused of "crying wolf" by the minister for transport during a crisis meeting to discuss driver shortages.
The comments came as haulage, supermarket, supplier and trade association leaders met with government on 16 June to thrash out solutions to what the Road Haulage Association (RHA) now estimates is a shortage of up to 100,000 HGV drivers across the country.
One attendee told The Grocer the minister Charlotte Vere, who chaired the crunch talks on behalf of the Department for Transport, said: "There's a perception that the industry is crying wolf. We have heard this three or four times before and the world didn't fall apart last time. The system is coping and we don't want to create panic."
RHA CEO Richard Burnett said: "She needs to wake up. This is a crisis.
"We have given so much data and information to demonstrate the severity. It is beyond the pale."
During the meeting, Burnett backed calls by Federation of Wholesale Distributors CEO James Bielby for trained military personnel to be drafted in to relieve the pressure in the short term. "We need to look at where the resource is right now," he said.
The government was also urged to allow drivers from the EU and EEA to return as their HGV licences are valid in the UK.
However, no action was agreed upon according to sources, with one branding the two-and-a-half-hour talks "frustrating".
"The minister is totally complacent," the source said. "She has failed to recognise the significance of this crisis and telling industry they are crying wolf is a disgrace. Shelves are already empty, food is being destroyed across the supply chain simply because it cannot reach its destination."
A DfT spokesman said Vere's quotes had been taken out of context, and that she was sympathising that sometimes the issues for the industry were not obvious "to the outside world", while agreeing to take the concerns away to draw up an action plan.
The spokesman said: "The government is well aware of HGV driver shortages and met with industry figures to discuss possible solutions around recruitment and retention.
"Most of the solutions are likely to be commercial and from within industry, with progress already being made in key areas such as testing and recruitment, and a big focus towards improving pay, working conditions and diversity.
"Our new points-based immigration system makes clear employers should focus on investing in our domestic workforce, especially those needing to find new employment, rather than relying on labour from abroad."