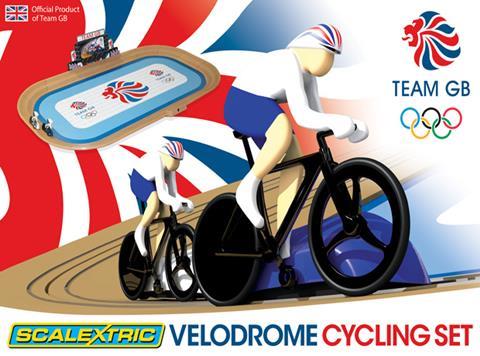 The Olympic Games could be a golden opportunity for Britain's toy retailers.
Analysts believe the Games could increase sales of toys by as much as 4% between May and August as tourists and Brits snap up souvenirs and games. The increase would come at just the right time for the market, which suffered a 1% year-on-year slump in toy sales to £451m in the first four months of the year, according to data from analysts The NPD Group.
"Even in a recession, it is rare for the toy market to decline, so a 1% drop over the last four months indicates what a tough time it has been for consumers," said Frédérique Tutt, European analyst for NPD. "However, expect the London 2012 Olympics to deliver a significant boost to the UK toy market."
Among the toys launched to mark the Games are Olympics Monopoly, a Scalextric Team GB Velodrome cycling race set (pictured) and a series of collectible London taxi replicas from Corgi. On the softer side, cuddly versions of Olympic mascots Mandeville and Wenlock are available.
"The Olympics has already brought new characters to the soft toy and games market as well as providing a springboard for manufacturers to develop their own themed ranges," said Tutt.
"Combined with the usual raft of blockbuster movies due for release this summer, we expect this to deliver a strong boost to the UK toy market – already the biggest toy market in Europe."
See Focus on Toys and Collectibles feature in this weekend's edition of The Grocer.