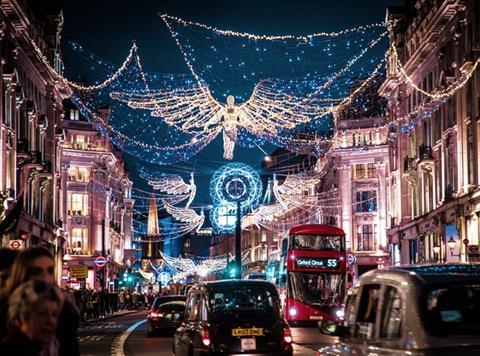 Tis the season to be jolly, but today's news that consumer confidence is at a five-year low is a reminder of how hard won every sale is, even in the so-called Golden Quarter. The high street is having an even tougher time than usual. In the online world, even Asos and Primark have said they're struggling. Then there's the looming prospect of Brexit and the growing possibility of a no-deal. But there are still grounds for optimism in the grocery industry. So in our final blog of the year, here are The Grocer's five reasons for cheer this festive season. And if you're feeling cheerful we would love to hear why. Email adam.leyland@thegrocer.co.uk
1. Don't believe all the bleak headlines
The high street is dead. Black Friday was bleak. Even online is becoming tougher. Recent headlines have made decidedly uncomfortable reading for anyone working in retail. Yet analysts at HSBC suggest we shouldn't believe all the doom and gloom rhetoric. Retail sales were up 1.4% month-on-month in November, according to ONS figures. Despite the likes of the British Retail Consortium branding these figures dismal, HSBC said UK retail sales were actually stronger than expected – especially after two months of decline. Food sales were admittedly flat in the ONS stats, but few consumers do a Christmas food shop in November. The uplift in retail performance suggests there is reason to feel hopeful about this month's grocery figures.
2. The industry has made huge progress on sustainability
Yes, there is still too much plastic around and too much food going to waste. But at the end of the year, it's important to take stock of just how far the industry has come. The post Blue Planet II consumer is increasingly aware of plastic pollution, turning to Chilly water bottles over their plastic counterparts. The industry has responded in kind with some fast-paced innovation. The past 12 months have heralded the development of a non-GM, plastic-free teabag from Clipper, an edible seaweed pod as an alternative to plastic water bottles, and a plastic-free chewing gum at Iceland. Supermarkets have also reduced plastic packaging on everything from pre-packed bananas to swedes. There's still a way to go, but it's certainly a step in the right direction.
Food waste has been another area of huge progress. In October, Michael Gove announced £15m in funding to increase food waste redistribution – one of the key aims of The Grocer's Waste Not Want Not campaign. This came in the same year that Tesco own label suppliers took a landmark step towards transparency by revealing how many tonnes of food they wasted. That food waste has been the subject of many festive initiatives – Aldi, for one, will be donating all unsold fresh food to charity on Christmas Eve – shows it remains high on the agenda.
3. There's never been a better time for innovation
New products and brands are coming onto the market at an unprecedented pace, as this year's The Grocer Top Products Survey has proved. Firstly, it's a great environment for startups. Examples such as Grenade – now the number one brand in sports nutrition – and up-and-coming meat snacking brand Ember show how a small operation can grow to reap big rewards. Today's consumers are simply not as loyal to the established beacon brands as previous generations. So as they seek out new, exciting products, supermarkets are starting to take smaller operations more seriously.
Secondly, the fresh competition in the market has forced big companies to innovate at a much faster pace. Take Unilever. Innovation over the past year has included everything from its first beauty & personal care brand in 20 years – the on-trend Love Beauty & Planet range – to a vegan mayonnaise. Despite all the doom and gloom in the market, consumers are lapping up astute innovations such as these with a fresh intensity. And that can only be cause for cheer.
4. Vegan opportunities continue to grow
This was the year vegan-friendly meat alternatives went mainstream, with a glut of NPD hitting the market. Meanwhile, the category's longest saga – the question over when much-hyped US hit the Beyond Burger would go on sale – was finally resolved in November when it landed at Tesco.
Next month's Veganuary campaign will look to build on this progress, with its organisers aiming to add another 300,000 converts to the cause.
News of Unilever snapping up Dutch brand The Vegetarian Butcher this week follows the launch of Nestlé's plant-based brand Garden Gourmet earlier this year, and shows Big Food is definitely warming to the vegan theme. Even dairy giant Danone is in on the act, and is due to launch a raft of plant-based versions of its most famous brands next year. It certainly seems to be a lucrative market, as sales of meat-free and vegan items have shot up by 14.3% to £352.1m over the past year [Kantar Worldpanel 52 w/e 12 August 2018]. Expect much more vegan activity and innovation along these lines in 2019.
5. Bargain retailers are raking in the money
If anyone can profit from a five-year low in consumer confidence, it's those at the cheaper end of the market. In an interview with The Grocer earlier this year, Aldi UK & Ireland CEO Giles Hurley remained confident in the opportunities for growth – and believes Aldi could fare better than rivals amid Brexit upheaval.
Others who trade on price are also feeling optimistic. B&M reported 7% year-on-year UK sales growth in its latest trading update. Last week Poundland reported like for like growth for the year, although refrained from publishing exact numbers.
Poundland's retail director Austin Cooke thinks businesses such as pound stores can thrive in an environment of growing consumer cautiousness. "Ultimately we'll get to a place where, when it comes to discount retail, it will become the norm rather than the exception," he says. So those who can demonstrate value for money stand to flourish.
We will return with our next Daily Bread Blog on January 2. In the meantime, merry Christmas from everyone at The Grocer!