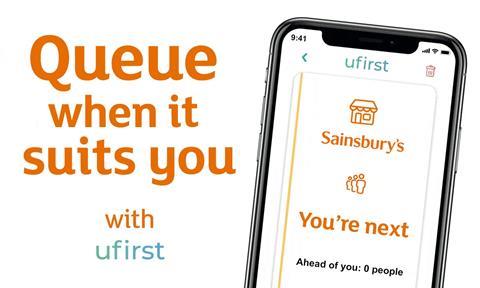 Sainsbury's has rolled out its virtual queueing system to 42 further stores in a bid to minimise the wait outside of branches under its coronavirus safety protocols.
A total of 55 stores will now use the queuing app, which allows customers to select the store where they wish to shop. The app notifies them when they are at the 'front' of the line, without the need to physically queue.
Customers without a smartphone can be added to the virtual queue with staff assistance. They will then be informed by a staff member when it is their turn.
The initiative, rolled out in partnership with the app provider Ufirst, began as a pilot in five branches in July. It was extended to an additional eight stores in October before the latest rollout.
Sainsbury's is assessing whether it will save shoppers time and keep them safer in the coronavirus crisis.
It also hopes to be able to rapidly extend the technology to more stores in response to short-notice local lockdowns or scaled-up government restrictions.
The latest expansion follows fellow retailers Asda, the John Lewis Partnership and M&S all introducing their own virtual queuing systems over recent months.
Asda is now up to 50 stores after trialling an app-based system at its Middleton branch in Leeds in May, while JLP has rolled out similar technology to three John Lewis stores.
M&S's version, meanwhile, allows customers to book a 30-minute slot to shop at one of 566 standalone Food Halls and branches.
Jat Sahota, co-founder of retail tech firm Rangefinder, which brought Ufirst to the UK, said retailers had been eager to roll out the technology quickly.
"The world we live in now means supermarkets and their customers are far more open to technology that makes shopping easier," he said.