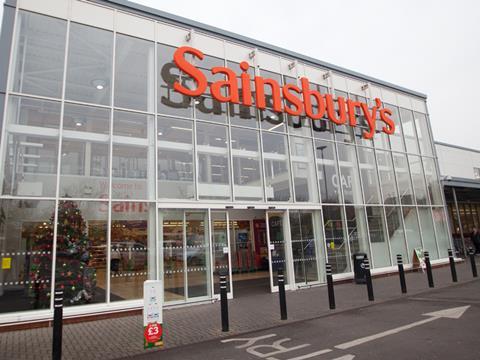 Sainsbury's has reported its first pre-tax loss in a decade after one-off property costs dragged down the supermarket chain.
The retailer fell to a pre-tax loss of £72m in the year to 14 March 2015, versus profit of £898m the year before. This was due to impairment and onerous charges of £628m associated with its decision to not build some planned sites, and a devaluation of some existing sites.
Total sales fell 0.7% to £23.7bn during the year, while like-for-like sales, excluding fuel, declined 1.9%.
Sainsbury's said it had continued to lower prices and improve its own-label ranges during the year as part of its strategic review announced in November last year. It invested £50m in lowering the price of more than 1,100 products in the second half of the year and said it expected to invest a further £150m in 2015/16. However, it said lowering prices had increased volumes, leading to a net cost to the business of £40m in 2014/15 and an expected £110m in 2015/16.
It added that work to improve the quality of 3,000 own-label lines was "well underway". Own-label accounted for 49% of food sales, which Sainsbury's said was "a small decline year-on-year", but sales of its premium range Taste the Difference had increased sales by nearly 5%, and more than 95% of customers bought own-label.
On stores, Sainsbury's said it opened eight new supermarkets during the year, refurbished 13 and extended five. It also opened 98 convenience stores and refurbished 43.
Groceries online sales grew 13% during the year, while clothing and general merchandise sales climbed 9%. Sales in its convenience stores rose by more than 16%.
It also made operating cost savings of £140m, and said it expected to deliver total cost savings of £500m over the next three years.
And updating on its Netto UK joint venture with Dansk Supermarked, Sainsbury's said it had opened five stores and planned to open 15 by the end of the year.
"The UK marketplace is changing faster than at any time in the past 30 years which has impacted our profits, like-for-like sales and market share," said Sainsbury's CEO Mike Coupe. "However, we are making good progress with our strategy, and our investment in price and quality is showing encouraging early signs of volume and transaction growth.superm
"We know that our customers still want the best quality food at great prices and our strategy is built on our strong foundations of selling great food with a focus on quality, provenance and sustainability. At the same time, we know that our customers want value for money and we have therefore invested in lowering our prices; our prices versus our competitors have never been better.
"We also have significant opportunities to grow our business. Clothing, general merchandise and financial services have all performed well over the past 12 months, as have our convenience and online channels. We have a significant ambition to grow these areas over the coming years.
"Sainsbury's is a fantastic business, run by an experienced management team, supported by great colleagues and underpinned by strong values. I believe we are taking the right decisions to ensure we remain fit for the future and are able to capitalise on our many growth opportunities," Coupe added.