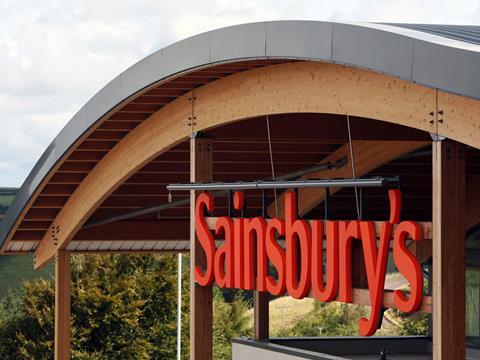 Julie Palmer, partner, Begbies Traynor:
"With Sainsbury's announcing its first statutory loss in a decade, it looks like ex-CEO Justin King checked out at the right time. While the retailer's recent move to make better use of its larger sites – from letting space to other retailers to incorporating hotels and flats into their design – is to be applauded, it is clearly too late to save the company from significant property write-downs this year.
"Today's worrying financials are the least of Sainsbury's woes, as dark clouds remain on the horizon. Improved trading at Tesco is likely to adversely impact Sainsbury's more than the other 'big four' supermarkets given their greater overlap of store locations. Meanwhile Sainsbury's hasn't been investing anywhere near as much as Asda and Morrisons when it comes to price cuts, relying rightly or wrongly on its quality credentials instead.
"Although many of Mike Coupe's initiatives look good on paper, the real question is whether these go far enough to deliver the value, service and quality that customers demand and that will clearly differentiate Sainsbury's offering away from the discounters, Waitrose and its larger peers. I fear that its proposition may simply be too middle of the road to gain traction with consumers attuned to seeking either best price or top quality products."
Himanshu Pal, director of retail Insights, Kantar Retail:
"The battle in the UK grocery market is getting the better of Sainsbury's as its latest results reveal its biggest loss in a decade. As the price war rages, Sainsbury's £200m investment in price reductions and simplified promotional activity may lose out to the likes of ASDA and Morrisons who are committing double this amount.
"Mike Coupe has been making the right moves but time is not on his side, with shareholders baying for a short-to-medium term return on investment. But serving short-term profitability – such as saving £500m in three years through job cuts –might be counter-productive in the long run.
"Sainsbury's continues to struggle with the structural issues that confront all traditional big box players but it has made some positive moves to combat these problems. It has started some good initiatives such as subletting excess in-store space to non-food retailers, rationalising in-store assortment, increased focus on general merchandise and clothing, and repurposing its real-estate to develop residential apartments with Sainsbury's as the anchor occupant.
Sainsbury's performance in terms of convenience and online expansion are notable and we expect to see continued investments in these channels. The grocer is down but certainly not out."
David Gray, retail analyst, Planet Retail:
"As anticipated, Sainsbury's has reported its first full-year loss in almost a decade when property writedowns and other one-off factors are taken into account. The results mark a sharp departure from the 'good years' of consistent profit. The simple fact is that supermarket property assets are now worth far less, particularly sites that would have been originally earmarked for big-box. If sites offer less developmental potential their value is affected – this is simple economics.
"Even on an underlying basis, Sainsbury's trading performance continues to slip, with like-for-like declines the new normal for a retailer that, only 12-18 months ago, was leading the Big Four performance-wise. Sainsbury's is feeling the pressure from discounters continuing to lure away more affluent shoppers coupled with Tesco's nascent domestic recovery. As the latter gathers pace, Sainsbury's will appear increasingly vulnerable.
"But Sainsbury's does have some structural advantages over rivals. There is its convenience portfolio, which is large and growing fast. Also, it has more limited exposure to big-box, meaning its property writedown will be a fraction of rival Tesco's nearly £4 billion. All the same, a tough year lies ahead for one of the UK's largest grocers."
Paul Thomas, Retail Remedy:
"Sainsbury's has become the retail world's squeezed middle. What began as gentle pressure from both above and below has quickly morphed into an alarming exodus of customers – sending the brand spinning into a full-blown identity crisis.
"With its high-end customers – who have long formed its bedrock – increasingly trading up to the on-form Waitrose and M&S, and its more price-conscious shoppers being lured away by tough price competition, Sainsbury's proposition is suddenly looking less unique.
"Its reputation for quality, sustainability and fair trade goods is incompatible with the price war being waged by its wounded rivals Tesco and Morrisons. With lower margins and a greater reliance on food than its bigger rivals, Sainsbury's can never win a pure price war. Its strong brand alone will not be enough to bail it out, as in the current market price will always trump quality.
"The pain of falling sales and its first loss for a decade is compounded by an alarming slide in its market share – which has slumped to 16.5%. The stakes for Mike Coupe's Strategic Review – which needs to be implemented more quickly – have risen dramatically. Sainsbury's is a distinctive brand which steered a successful middle course through the recession. But it now risks being outgunned from below and outshone from above."
John Ibbotson, Retail Vision:
"Two years in an Egyptian jail is the least of Coupe's worries after this set of numbers. Compared to Tesco's £6.4bn bombshell, this pre-tax loss is a relative minnow, but it still reflects the changing narrative within grocery. The monopoly of the Big Four is no more.
"Mike Coupe has brought in change but it's nowhere near radical enough to tackle the revolution within grocery. He needs to take a lesson out of Dave Lewis' book and kitchen-sink the whole thing.
"There has to be a lot more urgency or sales and profits will continue to decline. And the more behind the curve Sainsbury's gets, the sharper the decline will be. Tesco have grasped the nettle and made the big decisions, and unless Sainsbury's does the same the medium to long-term pain will be even worse.
"Mike Coupe's leadership feels old guard in a new world. The strong values of his company should be applauded but what really matters in today's market is strong value — and is he delivering that? Right now, it would appear not."