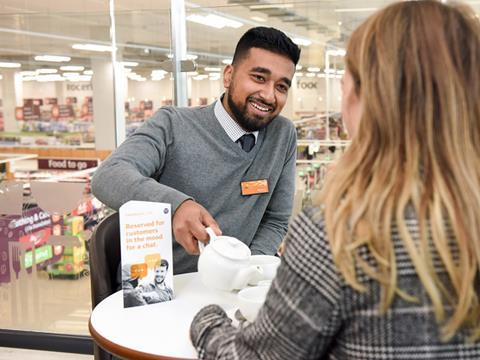 Sainsbury's is trialling a scheme of setting tables aside in its cafés to help tackle loneliness.

Tables in 20 Sainsbury's store cafés have been designated for customers and colleagues, and those in the community, to have conversations.

The scheme, Talking Tables, was developed in association with the Chatty Café Scheme, founded by mum Alex Hoskyn who came up with the idea while in a Sainsbury's café. It will be piloted in various formats, including through signposted tables in cafés, colleagues volunteering to be table hosts, and a charity-led version where stores partner with community groups and work with their volunteer networks to host scheduled sessions.

Sainsbury's will also be trialling the programme internally with colleagues by setting up Talking Tables in back-of-house areas in its stores, depots and store support centres.
The retailer is launching the initiative in response to research it conducted revealing one in 10 people felt lonely all or most of the time. Its Living Well Index poll, based on responses from over 8,000 people, also found 42% said they felt lonely some of the time, which increased to close to two-thirds (65%) for those aged 18 to 24.
The initiative has been created to address some of what Sainsbury's found to be key predictors of loneliness through the study, such as eating alone most or all of the time or using social media for more than seven hours a day.

Talking Tables will run at Sainsbury's in-store cafés in Barnstaple, Bishop Auckland, Canley, Cwmbran, Dorridge, Falmouth, Hull, Longbridge, Monks Cross, Newport, Newquay, Northfield, Penzance, Pontllanfraith, Redditch, Scarborough, Sedgefield, Swansea, Tewkesbury Road and Truro from October to December.

"We know community connections are a key driver of helping people to live well. Yet with almost two-thirds of people feeling lonely some of the time, it's important that we contribute to helping to improve the lives of our customers and communities," said director of Sainsbury's brand, Judith Batchelar. "We hope that by bringing people together at our Talking Tables, we can utilise the potential of our store space to help people be better connected to the communities they live and work in."

Coffee chain Costa rolled out a similar scheme to reduce loneliness, Chatty Café, in April at more than 300 of its branches.