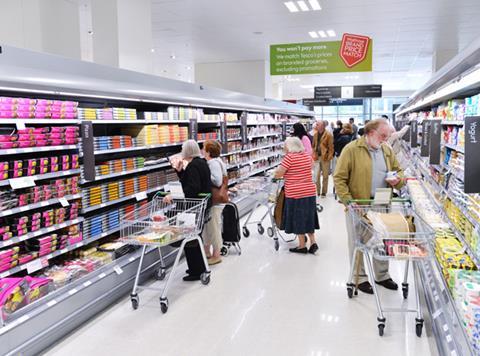 Sainsbury's, Waitrose and the discounters are continuing to defy the slow growth of the grocery market with strong sales gains, according to the latest data from Kantar Worldpanel.
Aldi and Lidl chalked up sales growth of 32% and 17.2% respectively in the 12 weeks to 2 February, with frozen food retailer Farmfoods growing by 43.9%.
Among the big five, Waitrose grew by 5.6% and Sainsbury's by 2.7%.
Their performance was against growth of 2.4% for the grocery market – the slowest for the industry since 2005.
Tesco and Morrisons both saw sales fall during the quarter, by 0.4% and 2.5% respectively. Asda grew by 0.5% and The Co-op by 0.3%.
Kantar Worldpanel retail analyst Fraser McKevitt said the slowdown in grocery market growth indicated "that brighter economic prospects are yet to be seen in the nation's shopping trolleys".
"The slowest industry growth since 2005 made it hard for many of the biggest retailers to increase sales. However, shoppers felt the benefit as grocery inflation fell to only 2.1%," he added.
On Sainsbury's, which was the only retailer of the big four to increase its market share during the period, from 17% to 17.1%, McKevitt said: "Mike Coupe, who will be taking over from Sainsbury's current CEO Justin King in July, will be inheriting the retailer in good shape as it continues to be the fastest growing of the big four – an unbroken run that stretches back nearly two years according to our reports."