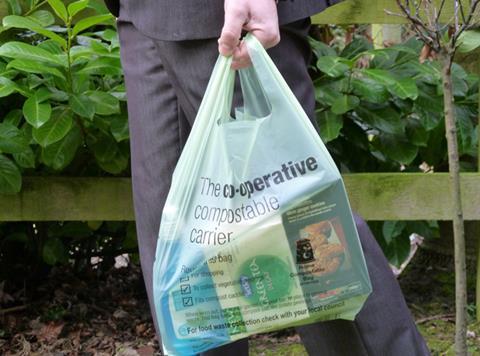 More than 800 community good causes in Scotland will benefit from the £750,000 generated by the Co-operative Group's stores North of the Border since a charge for single-use carrier bags was introduced in the country in October 2014.
The groups and organisations are being notified from today of their funding boosts after being invited to apply for grants for their communities.
The handouts, of up to £2,500 each, are being distributed by the Co-op after Scotland as a whole witnessed an 80% reduction in single-use carrier bag uptake, equivalent to at least 650 million fewer bags.
"From defibrillators to day care centres and schools to scout groups, as a community retailer we want to enable members, customers, colleagues and communities across Scotland to make a difference locally," said John McNeill, divisional managing director for Co-operative Food in Scotland.
"The Co-op shares the aspiration of seeing a reduction in the number of single-use carrier bags in circulation. In addition, hundreds of local groups and organisations are set to receive a much-needed funding boost. Together we are reducing, reusing, recycling and reinvesting in our communities."
Scotland's environment secretary Richard Lochhead congratulated the Co-op for distributing funds to so many groups.
He added that Scotland's bag charge had led to retailers raising £7m for good causes.
He said: "With the carrier bag charge we want to reduce litter and improve Scotland's environment, but it's great to see how it has evolved and that worthy causes are benefiting from it too."
Iain Gulland, chief executive of Zero Waste Scotland, the country's resource efficiency and circular economy expert, said Scottish consumers had embraced the new shopping habit.
He said: "The Co-op is a community retailer and its scheme illustrates how the carrier bag charge is not only benefiting the environment but is also making a positive difference in the communities where the money has been raised."
The Co-op has also pledged to go further and top up the fund with proceeds from its entire range of carriers, including sales of its bags for life and its new woven reusable shopping bags.