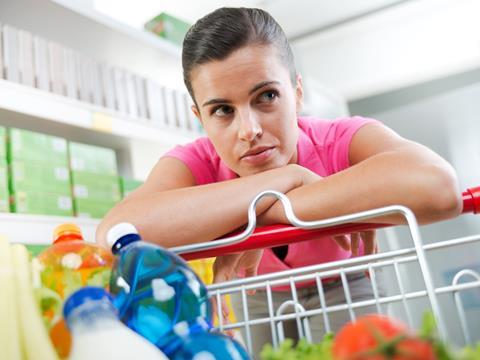 As Tesco plots a post-Easter fightback against the discounters, new research claims customers find it more stressful shopping at the UK's biggest supermarket than at rival Aldi.
Researchers Experience Insight used biometric science to measure the stress reactions of consumers while negotiating the aisles of the rival retailers.
The research found that at key points of the shopping trip, including the checkout, shoppers in Tesco recorded significantly more signs of stress in their bodies than at Aldi.
Boffins recruited 20 shoppers, none of whom had ever shopped at the Aldi or Tesco store in question, who were fitted with equipment including heart rate and electrodermal monitors to measure their heart rates and sweat production, classic indicators of stress. The shoppers were each given £50 to buy a set list and researchers studied the effects.
They recorded the maximum average level of stress for each supermarket, coming up with a stress index indicating the Aldi experience (5.3 on average) was significantly less stressful than that at Tesco (6.4).
The research claimed shopper reactions showed a preference for Aldi's no-nonsense approach at the till.
"For both Aldi and Tesco, the payment process (queuing, scanning/bagging and payment) presented the most stressful part of the whole journey," found the report. But it added: "Tesco had a notably worse index (7.0 compared to 5.5) in scanning and bagging as customers are not expecting interaction with the cashier, and where the speed of the process is a benefit, Aldi does better in not stressing the customer."
Shoppers also found Tesco's bigger car parks more stressful than the Aldi experience, according to the study.Entering the car park, parking their car and walking to the store registered a score of 6.7 for Aldi compared with 8.1 for Tesco, which the report said was down to "the considerably larger car park at the Tesco store, the relative difficulty of parking and greater distance to walk to the store entrance."
It added: "There was an even more noticeable difference on store exit."
In terms of categories, Tesco fared worse in personal care and bakery, while Aldi suffered its biggest "tripping points" for stress due to "poor layout and lack of signage" said the report.
Tesco performed best in fresh food with a score of 4.9 compared with Aldi's 6.6, with the study finding it "significantly matched customers' expectations in terms of fresh pasta, sauce and meat, whereas Aldi fell short.
"We set out to measure the relative impact on stress of the shopping experience at Tesco and Aldi. I think the results will be very worrying for Tesco. I certainly didn't expect Aldi to record a better experience at the checkout than Tesco," said Experience Insight chief executive Tim Routledge.
"Most people talk about trying to exceed expectation but our evidence actually shows that it is better to meet expectations rather than try to exceed them as it create less points of stress."
A Tesco spokesman said: "These results do not reflect the efforts we have made to simplify and improve the customer shopping experience. This research is based on a very small number of respondents and is inconsistent with our industry monthly survey, which shows we regularly perform significantly better than Aldi for staff helpfulness, satisfaction with waiting time and the ease of using the car park."