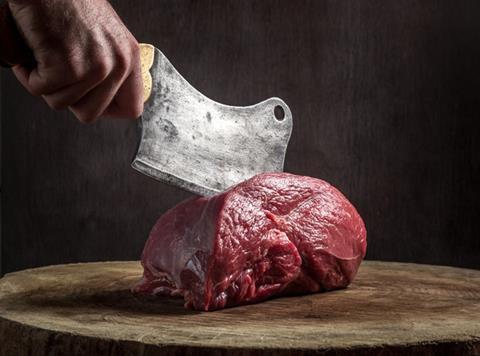 The supermarkets have lost more than £800m in sales this year, with leading brands and own-label products alike dragged into their fight with the discounters, The Grocer's annual Top Products Survey has found.
Household names including Carlsberg (–£99m), Warburtons (–£53m), Pampers (–£41m), Princes canned fish (–£29m) and Heinz Classic soups (–£24m) have all been major casualties in this year's survey, produced in association with Nielsen.
But the biggest losses were incurred on the fresh meat side, as the supermarkets have responded to ultra-competitive prices at the discounters with lower prices and cheaper cuts. Fresh meat sales have fallen by £328m, a 7.3% decline – more than cigarettes, which fell £211m – with bacon a particular casualty, losing £123m in sales on volumes down 5.6%.
But none of the main proteins were spared. Beef sales were down £72m, pork lost £62m, sausages £51m and lamb £21m), while poultry sales also fell £49m, despite picking up some of the 4.4% decline in fresh meat volumes.
Another casualty of price deflation was fresh veg. Sales fell £58m despite a 2.1% volume increase, with potato sales down £35m, though spinach sales rose £20m.
Other staples to be hit included bread, down £87m (6.2%); butters & spreads, which fell £83m (7.2%); breakfast cereals, declining £78m (5.5%), and cheese, down £70m (2.8%) despite volumes going up.
But there was also good news amid the bloodshed, with clear signs of healthier living among this year's fastest-growing products. Fresh fruit sales at the mults rose £176m, or 4%, with volumes rising 3%, led by avocados (+£50m), blueberries (+£44m), raspberries (+£38m) and strawberries (+£32m).
Other winners included free-from foods (+£123m), with Alpro adding another £23m. Bottled water sales (+£82m) more than compensated for losses in carbonated soft drinks (–£22m), where sugar-free cola Pepsi Max (+£27m) helped Pepsi (+£30m) win its battle with Coca-Cola.
In alcoholic drinks, sparkling wine (+£102m) starred again, in particular Prosecco, though sales of Champagne (+£9m) also grew. It was also a good year for lager, up £42m, on the back of a sports-packed summer and two heatwaves.
The Grocer's 135-page report analysed 114 categories totalling £105bn in value.
Click here to read the full report
With deflation peaking in May at 3.1% [GPI], the combined losses stand at £812m, a 0.8% fall, on volumes down 0.7%. This is greater than the losses incurred in either 2015 (£733.5m) or 2014 (£477.5m) and means the big four have lost 2.5% of share in the past year and 3.5% since 2014.
Conversely, Aldi's share accelerated from 5.5% to 7.1%, with Lidl share up to 4.6% as their combined sales grew 14%.
"While overall growth [at the discounters] is lower than 2015, the category growth drivers remain the same, particularly fresh foods," said Mike Watkins, Nielsen's UK head of retailer & business insight. "In fact 49% of the increase in [spend at the discounters] came from fruit & veg, fresh meat, fish and poultry, and other chilled foods. This is a reflection of how the advertising campaigns, which continue to focus on price, quality and now provenance, have encouraged shoppers to spend more."
But as Britain heads towards Brexit, the age of cheap food & drink is drawing to a close, with a raft of data from the ONS, Kantar Worldpanel and the BRC this week suggesting the two-year-long era of deflation is at an end, as manufacturers look to pass on cost increases as a result of the weakened pound.
With bananas, milk and cheese increasing in recent weeks, "there's no chance prices will stay the same" a branded cheese supplier said. "It's just a question of how much and when."
The Grocer's enquiries suggested price negotiations for 2017 are extensive and well advanced, with the consensus that prices are being held for the crucial Christmas trading period. "We cover forwards in currency [so] we'll aim to hold prices until the end of this calendar year," said one own-label supplier. "But we have already been advising and have in the main been relatively successful in obtaining price increases from the beginning of next year."
Supermarket bosses are desperate to see a bit of inflation, added one grocery retail CEO, but are encountering resistance from consumers: "Some retailers have accepted some price increases already, tried to pass them on, then backed down.
"The thinking is, we'll get through Christmas at this price – with gritted teeth – but we want to see a bit of margin in the new year."