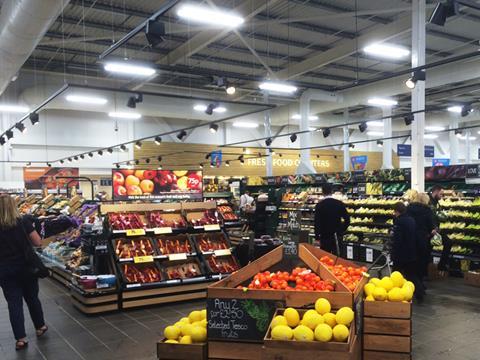 Food retailers taking part in a drive to increase fresh vegetable sales have recorded a near 150% increase on last year's figures, according to results released today.
The huge jump was put down to the enormous impact of the closure of the hospitality sector during the pandemic as well as a big jump in reporting by supermarkets taking part in the scheme.
The Peas Please initiative, which involves retailers including Aldi, Co-op, Lidl, Sainsbury's and Tesco, has now recorded an additional 636 million portions of veg sold since it launched four years ago.
The Food Foundation, which runs the campaign aiming to make veg more appealing, accessible and affordable to families, said it was "clear proof" that transparent reporting, as called for in Henry Dimbleby's National Food Strategy, had a big role to play in leading to a healthier national diet.
This year retailers in the scheme reported sales of 403 million portions of veg, compared to just 162 million last year.
"This increase has been overwhelmingly driven by our supermarket pledgers, who have both continued to ramp up new product development and reformulation initiatives to ensure ready meal ranges contain more veg, but also started to report back to us on sales of veg across their businesses, allowing us to track progress made as a result of activities supporting veg," said the report.
It added: "Although some of this growth may be related to the pandemic increasing grocery retail sales overall, the baselines we are using to track progress are largely 2019/20 ones, when the impact of the pandemic was already causing retail sales to increase."
The Food Foundation has now called on all major food companies to commit to transparent reporting, admitting until there was a level playing field it could only base its figures on those companies reporting.
However, with UK retailers representing 92% of UK retail market share signed up to Peas Please and committing to major initiatives to help drive up vegetable consumption, the foundation said supermarkets were making big progress.
Backed by celebrity chefs Jamie Oliver and Hugh Fearnley-Whittingstall, the campaign, which has also seen the launch of a spin-off ad campaign called Veg Power, launched in October 2017, and aims to deliver more than a billion additional portions of vegetables by 2023.
Among recent pledges, Tesco in March vowed to increase the proportion of its ready meals range that contained at least one of the recommended 5 a day to 66% by 2025, compared to a baseline of 26% in 2018.
In July, Dimbleby's report claimed the introduction of mandatory reporting for large food companies could achieve a substantial shift in the nation's diet.
The move has since been backed by a raft of supermarkets, including Tesco, Sainsbury's, Waitrose, Iceland, Co-op and Morrisons.
"It is great to see over 100 major food businesses committed to increasing veg consumption to support better health for millions of people," said Anna Taylor, the Food Foundation's executive director.
"Transparent and regular reporting against targets is vital if we are to turn the tide on our current dietary crisis and see future generations face a better and healthier future, with everyone having access to an affordable and sustainable diet."