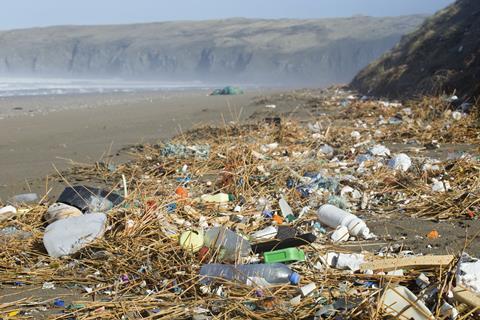 Supermarket leaders are among more than 40 organisations calling for a moratorium on the use of oxo-degradable plastics and other similar materials in the UK.
It comes after new rules paved the way for the UK to carry on selling products due to be banned by the EU.
Companies including Co-op, Tesco, Waitrose and Aldi have joined forces with organisations including the NFU to warn the UK must not fall behind in the global fight against plastic pollution.
The calls follow news that the British Standards Institution enacted a new specification (PAS9017) this month, supporting the sale of such plastics.
An open letter published today calls on the government to follow the lead of the EU, which is banning similar oxo-degradable plastics from next year.
It highlights how such degradable materials do not solve the global problem of plastic pollution, stating it instead encourages members of the public to litter under the misconception the material is biodegradable.
The letter reads: "These materials contain additives that accelerate the conversion of macroplastics into microplastics after months or years of laying in the open'"
It adds: "The UK voted for the EU ban when it was proposed in 2019. Failing to act now could turn Britain from a leader into a laggard in fighting the plastic crisis.
"For these reasons, we call on the government to protect our environment, protect our food production, and protect British business by banning these materials immediately."
Iain Ferguson, environment manager at the Co-op, said: "It is beyond concerning that the new specifications have been published despite repeated warnings of health and environmental impacts which appear to have been ignored or not fully understood.
"The UK voted for the EU ban of oxo-degradable plastics when it was proposed in 2019, and we believe enabling very similar materials to enter the UK market is a dangerous development which could not only cause environmental damage, but would also undermine recycling at a critical time when the world is experiencing an environmental crisis and we all need to work together to avoid it."