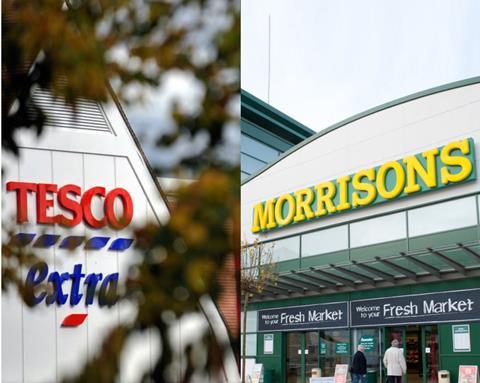 Tesco and Morrisons saw both sales and market share fall in the 12 weeks to 22 June, according to the latest supermarket share data from Kantar Worldpanel.
Morrisons sales dropped 3.8% in the 12-week period, while its share fell from 11.7% a year ago to 10.9%. Tesco's sales fell 1.9% and its share decreased from 30.3% a year ago to 28.9%.
However, both Sainsbury's and Asda recorded sales growth ahead of the market.
Sainsbury's sales rose 3% and its market share inched up from 16.6% a year ago to 16.7%. Asda's sales grew by 3.6% and its market share from 16.9% to 17.1%.
The discounters continued their strong performance, with Aldi and Lidl holding their all-time record shares reached in the previous 12-week period of 4.7% and 3.6% respectively, with sales growth of 35.4% and 22.3%.
Waitrose saw its share increase – from 4.8% to 5% – and its sales grow 6.9%.
Of the frozen discounters, Farmfoods recorded sales growth of 23.2%, while Iceland's sales rose 2%. The Co-operative Group, meanwhile, registered sales growth of 0.1%, but its market share fell – from 6.3% to 6.2%.
Kantar Worldpanel also revealed market growth had bounced back to 2.8% from the historic low of 1.7% recorded in the last period.
"The low grocery price inflation this period will be welcome news for household budgets," said consumer insight analyst Fraser McKevitt.
"The outlook is positive as we predict continuing sub 1% levels into the near future, providing some relief for cash-strapped consumers," he added.