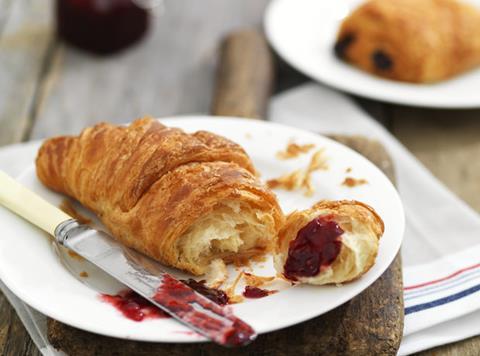 Sales of in-store freshly baked croissants brought in the dough for The Co-operative Group on Valentine's Day.
The convenience chain switched the emphasis from the usual dinner-for-two at home to breakfast in bed.
Sales of its in-store baked croissants increased 122% compared with Valentine's Day last year, the society said.
"We had store managers telling us that people were queuing at the door at 8am on Sunday morning wanting to buy flowers and cards as well as food ingredients like bacon and fresh orange juice for breakfast," said a spokeswoman for The Co-op. "But it was the croissants that particularly surpassed expectations, with more having to be baked through the morning. Perhaps it was the smell of them in the stores that made more and more people want them."

The Co-op also reported sales of its own-brand bacon soaring 295% compared with the same time last year.

The retailer also reported strong demand for its Truly Irresistible premium range of flowers, with sales up 65% year on year.

Roses were the biggest seller but tulips were an unexpected success, with a 260% sales growth over the Valentine's sales period.

"Tulips are not really a Valentine's flower, more a spring one, although they sold extremely well for us last weekend," added the spokeswoman.