Well-travelled Brits are increasingly seeking out more authentic tastes from the likes of Korea and Vietnam. And a growing number of specialist world supermarkets are making the most of it
Walking through the doors of Oseyo is like stepping into another world. The shelves of the Korean supermarket on Charing Cross Road are lined with kimchi, gochujang and bulgogi. There are sweet Korean pancakes alongside K-pop collectibles and a mind-boggling array of ready-to-eat noodles.

Opened in May, it's the fifth store the chain has opened in London (along with one in Manchester) as it rides the wave of popularity Korean culture has enjoyed in the UK of late, thanks in part to the prevalence of K-pop in the charts.

It isn't the only one. Specialist Korean shops are now a common sight in many city centres. And crucially they aren't only catering to the 53,000 Koreans living in UK. In fact, "most of our customers are not Koreans," Jae Joon, manager of the Miss Korea restaurant in Birmingham, told The Guardian in April. "The British have developed a taste for our food, which has further led to an interest in our culture." A spokesman for Oseyo says it, too, has seen increasing interest from the British population.

It's an evolution that isn't limited to Korean cuisine, with an array of world cuisines gaining popularity with British consumers to the benefit of expert grocers like Oseyo. So why is this? And how are these specialist retailers capitalising?
Ex-pat communities
Traditionally, grocers selling specialist world cuisine have catered to locals living abroad. Take Polski skleps.

Just over a decade ago, the influx of Polish migrants to the UK, sparked by Poland joining the European Union, saw the emergence of hundreds of these independent shops specialising in Polish food to cater for this new migrant community.

Now, though, these specialist stores are a staple of the British high street, with many British people frequenting them too, as well as Polish immigrants - as many as one in 10 Brits are now regularly buying Polish groceries, according to Mintel.

Brits' growing appetite for world cuisine isn't just reflected in specialist grocers, of course. The world cuisine aisles of the major mults are booming too.

A March report by Mintel found retail sales of world cuisine ready meals, cooking sauces and ingredients are up 5% for the second year in a row, with the category now worth £1.8bn. That's a 12% rise on 2013.
"TV chefs are championing authentic, exotic dishes and consumers are becoming far more interested in new flavours"
At the same time, globally inspired dishes were eaten at home by nine in 10 adults in the three months to November 2018, according to the same report. 'Chinese and Indian cuisines stand notably ahead of the pack in usage, with Mexican and Thai making up the top four of the nation's favourites.'
So why this surge in popularity? For one, people are travelling more. The World Tourism Organization found 46 million more overnight visitors travelled internationally in 2016 than in 2015. "Historically, consumers were more familiar with a westernised take on oriental cuisine," says Ennevor Yap, director at Chinese supermarket Wing Yip. "However, people are travelling further afield, looking to recreate holiday favourites on their return to the UK."

The media is broadening our horizons too. "Increased media coverage is encouraging people to think about the source of their food, with trends for more authentic cuisine developing and consumers putting more research into the dishes they eat.

At the same time "TV chefs are championing authentic, exotic dishes and consumers are becoming far more interested in new flavours," adds Yap. "These factors combined are putting international cuisine well and truly on British menus."
Asian cuisines
Off the back of this popularity, stores specialising in Asian cuisine, especially lesser-known cuisines such as Korean and Vietnamese, are thriving.

Yap says Asian cuisines way beyond well-known Chinese and Indian are showing "particularly strong growth", with consumers "looking past traditional favourites to discover authentic dishes from countries such as Korea, Thailand and Vietnam".

"Once confined to small stores in local Chinatowns, many Asian supermarkets in the UK are now going mainstream and offering a much larger selection of goods in response to increasing demand from consumers seeking fresh, alternative flavours and British home cooks who have developed greater appetite for oriental cuisine in recent years."
Online specialists
Specialist online grocers are also benefiting from more international British tastebuds. Jyoti Patel, founder and CEO of online Asian grocer Red Rickshaw, suggests the food industry as a whole is becoming "a lot more diverse", whether through restaurants, cookbooks, blogs and newspapers, or suppliers. As a result, people are more educated about food, and more demanding and discerning than ever. Everyone's in search of authenticity, even if that means lots of different things to different people."

Although the majority of Red Rickshaw's customers are still from an Asian background, the grocer is finding that non-Asian British home cooks and restaurants are "increasingly drawn" to its range, especially for fresh ingredients such as curry leaves and Indian mangoes. "We're just trying to make sure that the site is useful, attractive and usable for everyone," says Patel. "Whether they're experienced with Asian cooking or just curious."

She adds: "We're catering to people who want, or even need, our level of convenience and accessibility. Not everyone is able to visit their local store regularly, if they even have one nearby. And the growth of the world foods aisle is notable, but there's just not enough space in a chain supermarket for all the specialist products people want these days."
"We're catering to people who want or need convenience and accessibility. Not everyone is able to visit their local store regularly"
Yap believes the rise in the popularity of world foods presents a big opportunity for specialist stores. "Operators can capitalise on this trend by providing traditional options using carefully sourced ingredients, playing their part in educating customers about the best oriental dishes, while providing an exciting array of more unusual options.

"It is likely growth in travel to South East Asian destinations will naturally stimulate interest in the cuisine in the UK. There is a clear opportunity for the industry to boost ingredient sales by helping to increase consumers' confidence in their home-cooking abilities."

Red Rickshaw, for example, has launched a recipe box brand called Feast Box, primarily aimed at people who wouldn't otherwise cook with these ingredients.

So while Korean may be the latest craze, other cuisines are sure to follow suit as global travel continues to drive interest for a taste of the exotic among British consumers. Who knows, one day Malagasy, Paraguayan or Arctic supermarkets might become a high street staple. For now, though, here are eight specialist stores already capitalising on better-travelled British tastebuds…
Best Biltong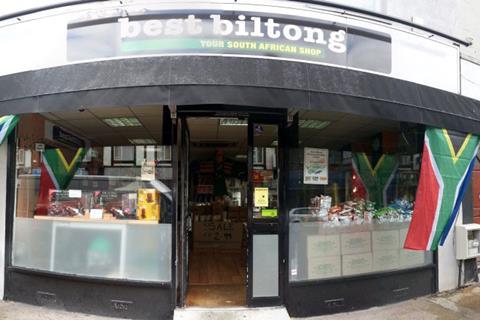 Best Biltong is a small, family-run South African company established in 2005. It has three stores, in Kingston, Guildford and Woking, as well as an online shop.
The company specialises in biltong (dried cured meat) and drywors (a dried snack sausage), but is "constantly" developing its range, which includes traditional South African fare such as boerewors, flatties, rusks and koeksisters, as well as wines, beers and spirits.
The retailer has a butchery in Kingston, which exclusively supplies its three stores.
'We value our brand and are sticklers for quality control,' the company says.
'Fresh meat and biltong is made weekly, scientifically tested frequently and tasted daily. For this reason, we do not wholesale to any independent outlets or multinationals and our products are exclusively available to us.'
Bristol Sweet Mart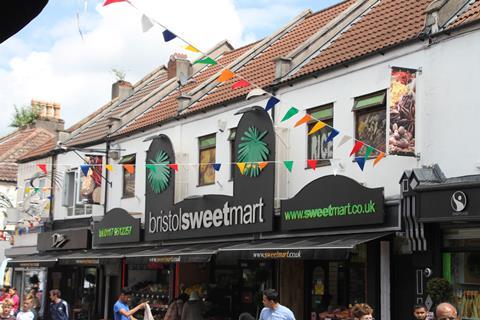 Bristol Sweet Mart is a family-run business based in the heart of Easton in Bristol, founded by Kassam Ismail Majothi - a Ugandan refugee - in 1978. The business now employs about 40 people and boasts a retail department, a wholesale department, and - its latest expansion - a unique concept deli, all of which sell pan-Asian food and drink.
It claims to be the biggest supplier of world foods and spices in the south west of England. It supplies both the general public and the Indian restaurant trade.
Delicatezza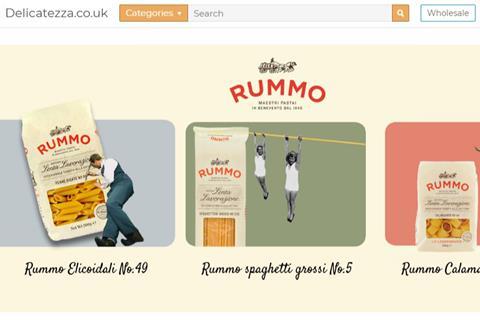 Delicatezza is an online Italian delicatessen headquartered in London, founded in 2013 in partnership with a family-run producer and importer of fine Italian foods.
The company says on its website that a 'desire to offer customers a chance to enjoy award-winning and exceptional quality produce at home are the tenets upon which we are based'.
The company boasts a hand-made and fresh range, which includes filled and unfilled egg pasta, hand-made gluten-free pasta, ready meals, pasta sauces, mozzarellas, and sausages - all made to order by Italian chefs Salvatore Lula and Ercole Cappai.
The store also sells a wide range of Italian dry pasta, rice and polenta, sauces, fish, meat and dairy, baking and cooking ingredients, snacks and drinks, as well as stocking 'all the top Italian household brands at competitive prices'.
'Although we pride ourselves on our freshly made range, we understand that people sometimes find comfort with brands,' the company adds.
'Here you can find a mix of both the big name brands and those much less known that we stock because of their high quality.'
Brands stocked include Barilla, Star, Prunetto, Rana, Rio Mare, Lupa, Referro and Rummo.
Delicatezzo also acts as a wholesaler, delivering a wide range of products in bulk to businesses such as restaurants and cafés.
Lituanica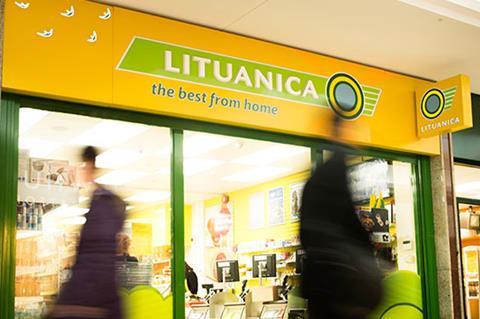 Lituanica is one of the largest Eastern European supermarket chains in the UK, headed up by managing director Rasa Apostol. It offers a range of 8,000 fresh and frozen produce along with store cupboard staples and home-style treats from across eastern Europe.
The company has seven stores across London and the Midlands, including supermarkets open to the public, and a wholesale warehouse on Barking, Essex.
The company made sales of £42.6m and pre-tax profits of £1.2m in the year ended 31 March 2018.
SeeWoo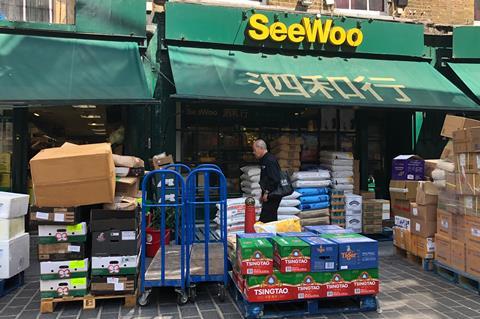 SeeWoo is a Chinese supermarket that has been around since 1975, it was Chinatown's first supermarket and was founded by Stanley Tse.
The shop began as one unit on Lisle Street, selling a small array of authentic east Asian ingredients, but has since expanded to four units.
SeeWoo Group covers wholesale and retail, and owns a restaurant in Glasgow which opened in 2006 and seats 500 people - claiming to be the largest restaurant in Scotland. In its financial report for the year ended March 2018, the group reported sales of £49m, and a pre-tax loss of £261k.
The store sells a colourful array of Asian fruit & veg such as rambutan, dragonfruit, daikon and sinqua.
It also sells a huge selection of dry ingredients, fresh and frozen foods, sauces, meals, puddings and cooking ingredients from across Asia, including some that it manufactures itself at a factory in Park Royal, London.
The store itself has tanks full of live eels, crabs, crayfish and lobsters for sale in its seafood section. It also claims to be the first retailer to import pak choi into the UK.
The retailer has diversified its range to include groceries from other Asian countries as well as China, such as Thailand and Vietnam, to meet customer demand.
Through its wholesale arm, SeeWoo supplies almost all of the 89 restaurants in Chinatown.
Red Rickshaw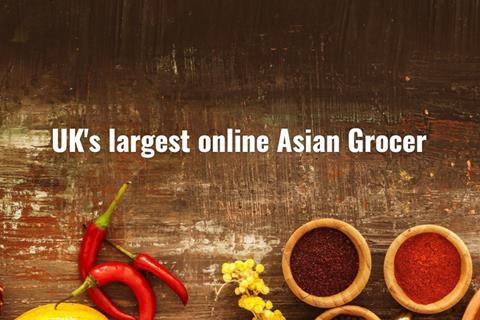 Red Rickshaw is an online Indian grocery store that has been around since 2016. Founder and CEO Jyoti Patel started up the company as a side-project while working full time in finance. However, the business took off, and now claims to be the UK's largest online Asian grocer.
The idea behind the launch was to make Asian ingredients "more accessible" - not just shelf-stable products like spices, but authentic, fresh groceries that for many people are very difficult to come by, like fresh curry leaves, alphonso mangoes and white radishes.
The business has now branched out into three core areas - Red Rickshaw, a Red Rickshaw wholesale service, which counts Michelin-starred restaurants among its clients, and home delivery recipe box brand Feast Box.
It delivers to thousands of customers across the UK each month, and has a small team, spread across its London office and its warehouse.
The company also has its own van fleet, which delivers wholesale goods every week to restaurants, street food stalls, hotels, catering companies and dark kitchens.
"We're opening up the Asian grocery market to a wider audience," says Patel.
"Especially with wholesale, we offer unbeatable expertise in authentic Asian ingredients, plus a full service that can meet our clients' other needs. This makes us distinctly useful to our non-Asian restaurant clients."
Oseyo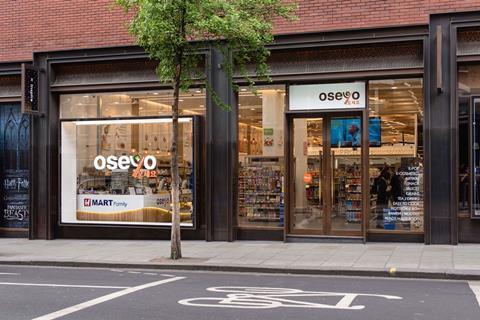 Oseyo is part of US Korean supermarket chain Hmart, which has operations across multiple continents and has about 40 years of history with approximately 80 stores. The brand Oseyo, which means 'welcome' in Korean, started with its first location on Tottenham Court Road in October 2015.
In May, Oseyo opened its fifth London store (and sixth overall) on Charing Cross Road. Operations co-ordinator Isaac Kweon says the company chose the location because Chinatown London is an "exciting and iconic destination for all things east Asian located in the heart of London". "The site on Charing Cross Road, which is part of the new Central Cross development in London's West End within Chinatown London, was the perfect location for our sixth Oseyo branch."
He adds: "There are only a few Korean supermarkets in the UK, as the Korean population is not big. However, Chinatown London has a variety of east Asian restaurants, cafés, drinking venues, and supermarkets, and we find that this wide customer base all enjoy our Korean offering too."
Wing Yip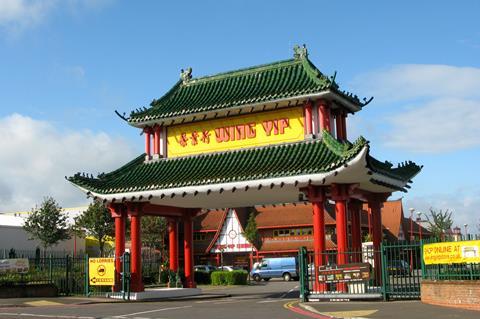 Wing Yip is reputedly the UK's biggest Chinese supermarket, with four stores with a combined annual turnover of £110m in Birmingham, Manchester, Cricklewood and Croydon, as well as an e-commerce operation. It was founded in 1970 and stocks 4,500 products available to the trade and public.
The shop stocks Chinese, Thai, Japanese, Korean, Vietnamese and Indian ranges in its stores, including dry ingredients, fresh fruit & veg, simple sauces, and fresh meat and fish counters, complete with trained butchers.
The company also has warehouse facilities for trade customers, with wide aisles, packing teams and bulk volumes.
Wing Yip continues to grow, with ongoing expansion plans. A few years ago, Wing Yip refurbished its Birmingham head office, warehouse and national distribution centre with almost 200,000 sq ft of selling and storage space across the 10-acre site.
The Croydon and Manchester stores are also undergoing transformation, in an effort to offer improved shopping facilities with an even greater range of Far Eastern products.