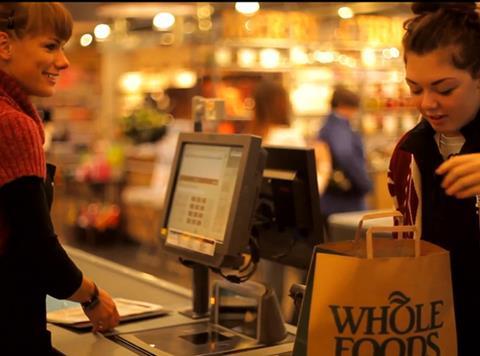 Whole Foods Market has become the latest grocer to launch a price-matching scheme - benchmarking its prices against Waitrose.

The organic and natural food retailer has started putting 'Price Match' tags against thousands of branded and some own-label lines in recent weeks.

The marketing materials in-store do not make it clear which supermarket chain Whole Foods is matching prices against. However, sources close to the company said it was matching Waitrose prices - excluding promotions - on all branded and some equivalent own-label products, such as apples and tomatoes.

The scheme also brings Whole Foods closer to Tesco's prices on brands, given Waitrose already matches Tesco on all branded groceries, excluding promotions, under its Brand Price Match scheme.

Whole Foods is supporting its scheme with posters claiming 'Same brand same price', 'Lower prices' and 'Everyday value'. Analysts said it could help convince irregular customers to buy more from the retailer. "It's going to take a lot for most customers to understand they could do a full shop at Whole Foods," said Kurt salmon senior manager Mark O'Hanlon. "However, if they can get customers to put one extra item in the basket, this will represent a significant growth sales lever for the business."

Whole Foods has also lowered prices in the US. In November, after it cut its sales forecast for the current fiscal year, it was reported to have reduced prices in response to a growing number of US retailers broadening their fresh and organic offers.

The launch follows similar moves by other upmarket retailers. Last year, Booths launched Price Promise, matching the most commonly occurring non-promotional prices at Tesco, Asda, Waitrose and Sainsbury's.