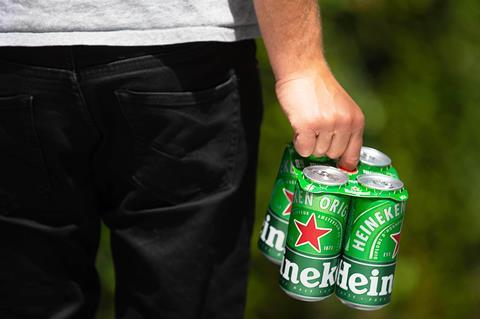 Exiting Russia may take longer than initially expected Heineken has admitted.
The Dutch brewer promised to withdraw from the Russian market following its invasion of neighbouring Ukraine nearly a year ago.
It pulled its eponymous beer from Russia last year, but continues to sell other brands there.
CEO Dolf van den Brink said Heineken was aiming to sell the Russian operations, which still employ around 1,800 people, in the first half of this year – but suggested the process could take longer than initially thought.
He added Heineken would keep running the business there until it found a suitable seller to "avoid the risk of being nationalised".
Van den Brink's comments came as the company unveiled its full-year earnings results, which showed that a combination of price rises, demand for its premium brands and a recovery in volumes resulted in a 30% jump in revenues in 2022.
All regions around the world contributed, with double-digit organic growth, a sharp recovery in Asia Pacific and the reopening of the on-trade in Europe helping volumes rise by 6.9% year on year.
However, the CEO warned the global economic outlook would "remain challenging" this coming year. Despite the upbeat profits in Europe and Asia, the company still booked an impairment of €88m related to the Russia arm.
It has previously said it would not profit from any transfer of ownership and that it expected a total impairment and other non-cash exceptional charges of approximately €0.4bn once the sale was concluded.
Heineken is one of the many western businesses to have pledged to exit Russia following the conflict that are still running operations there.
Last week, The Grocer reported that consumer goods giant Unilever was under fire for still selling ice cream in Russia, despite claiming it was only staying in the country to provide essential goods like baby formula.