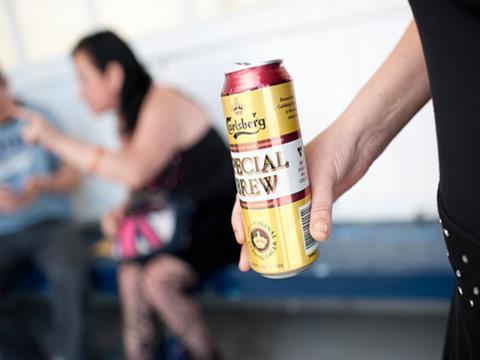 A major row is brewing over industry plans to bring in new portion controls for high-strength alcohol to answer the Home Office's call for tougher action on booze, The Grocer can reveal.

Under proposals drawn up by the Portman Group, it is understood retailers would be barred from selling cans containing more than four units of alcohol - the equivalent of a man's recommended daily limit - and plastic bottles containing over 15 units.

Although the plan is for a new industry Responsibility Deal pledge, the Home Office is believed to be considering writing the proposed new Portman Group ruling into the Licensing Act.

"We are determined to respond to the Home Secretary's call to go further," said one source involved in the talks, adding that negotiations between suppliers and retailers were at a "sensitive stage". "There's been a lot of work by producers and multiple retailers in the area of products that tend to be disproportionately appealing to certain groups. Individual retailers have been looking at this for some time and there's been a plethora of local authorities making arbitrary decisions about this. The talks are about how we make a collective pledge."

However, opponents claim the new move would grant draconian powers to the Portman Group, which is backed by 10 major drinks company members - leaving retailers to face the wrath of the courts and smaller producers side-lined.

"There's going to be a huge row over this," a leading retail source predicted. "The danger is the Portman Group will turn into a regulatory arm of the big multinational alcohol companies, handing down the law. We have already seen contentious cases where producers claim to have been victimised, such as the Jody Scheckter case (the former F1 star unsuccessfully went to the High Court over a ban on his Laverstoke Park Farm ale and lager labels) and the BrewDog ruling (the artisan brewer this week launched an astonishing attack on the Portman Group saying it "didn't give a shit" about the ruling that the packaging of its Dead Pony Club ale encouraged binge drinking).

"Why doesn't the government just get on and legislate by taxing super-strength products rather than coming up with a massively convoluted plan that is going to be hugely unpopular, and which is probably doomed to failure?" Another leading retail figure also warned the plans could set a "dangerous precedent". "What's being talked about is quite a major step change," they said.

The supplier source insisted that following "very constructive conversations" with producers and retailers in the last nine months, he expected the government to press ahead with the scheme before the summer recess.

"There's a general feeling it should be a producer-led initiative," the source added. "We have to establish is it legal to make a collective pledge under competition law and will it make a difference to those we want to target. Also, there is no point in one or two retailers making a pledge if others don't abide by it. We need to have a level playing field."

It would not be the first time the Portman Group code has featured in licensing rules. Guidance in 2005 urged judges to consider the code in decision-making.