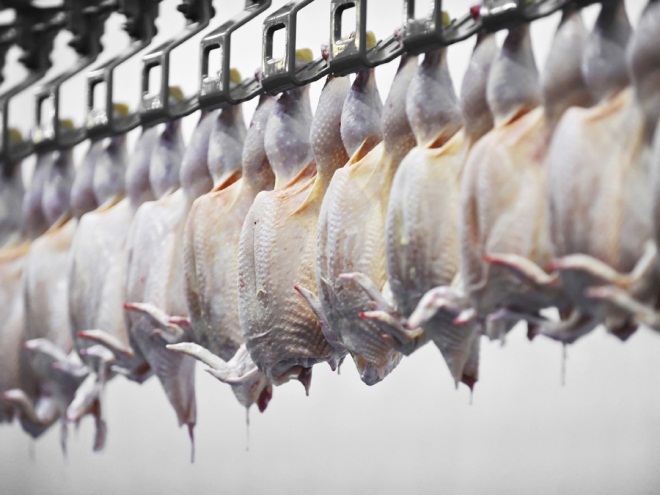 Poultry giant 2 Sisters Food Group has been forced to abandon the gas stunning of chickens in a bid to keep production lines running during the ongoing CO2 crisis.
The UK's biggest chicken supplier today said it had temporarily switched to electrical waterbath stunning as its main method of slaughter, as it faced up to the "huge challenge" of keeping production on track and avoiding shortages of chicken in supermarkets.
As The Grocer first reported on Wednesday, the poultry sector has been hit particularly hard by the pan-European shortage of food-grade CO2, with British Poultry Council CEO Richard Griffiths warning as much as 60% of the UK's poultry processing plants could be forced to stop production "within days" without a steady supply of the gas.
CO2 is a crucial input in poultry production, and is widely used to slaughter birds using biphasic carbon dioxide systems. The gas is also a key ingredient in creating shelf life extending modified packaging atmospheres.
With supplies of CO2 drying up, the past few days had "not been easy", admitted a spokesman for 2 Sisters. "But we have managed to put our contingency measures in place using electric shock baths to keep the lines running," he added. "We are coping."
While electrical waterbath stunning complied with FSA guidelines and welfare regulations, deploying it as a contingency had the inevitable consequence of slowing kill rates down. This meant 2 Sisters faced a potential increase in production costs whilst it added more staffing resource to keep throughput at the same levels, the supplier's spokesman explained.
Short-term fix
Other major poultry processors were now following suit and deploying contingency measures and alternative slaughtering techniques, said the BPC's Griffiths.
But these alternative techniques were only a "short-term fix to the problem", Griffiths pointed out, and the sector was still living "from hand to mouth", he stressed.
After the publicity of the past few days, some of the BPC's members had accepted "a few" deliveries of CO2, but the supply had neither been consistent nor reliable, Griffiths added.
"The problem varies from site to site, but we are still very much in a scenario where shortages could push some of our members to stop production within days. They are on the cusp, and this would have a consequence for food supply."
Griffiths called on the government to take a "firm grip of the situation", and hit out at the gas sector for its lack of information on the crisis.
"Our members will have a business relationship with these gas suppliers, but I haven't seen a big picture coordinated response about how they are going to tackle this problem and get it fixed."
It comes as The Grocer today revealed that the CO2 crisis was now also affecting frozen food, with retailers limiting online deliveries of frozen items because they were running low on dry ice.
A Defra spokeswoman stressed the crisis was "an issue for industry", but said the government remained "in contact with the relevant companies and trade associations, including those within the food and drink sector and main CO2 suppliers."