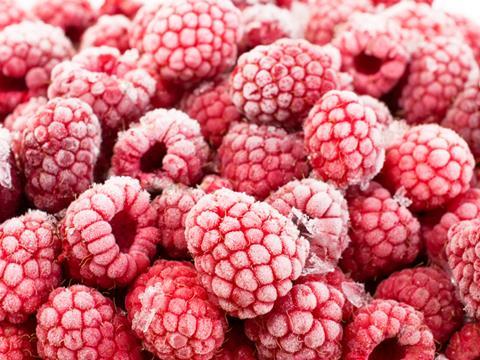 This story was updated on 25 June 2018 to add new detail about Morrisons
Frozen food has emerged as the latest category to be hit by CO2 shortages, with retailers limiting online deliveries of frozen items because they are running low on dry ice.
Dry ice is made by cooling and pressurising carbon dioxide gas, which is running low because of the Europe-wide CO2 crisis. It is used in multi-temperature delivery vehicles that allow frozen items to be transported to shoppers' homes alongside chilled and ambient products.
Ocado started warning customers on Friday they may not be able to buy certain frozen items online, with a note on its app stating: 'We're sorry! Like other retailers, the UK-wide CO2 shortage is limiting our ability to deliver frozen items. The problem should be sorted very soon.'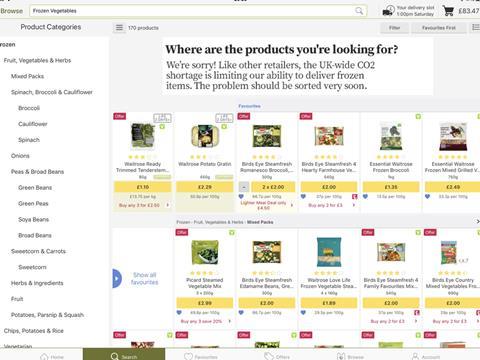 Ocado has yet to comment, but The Grocer understands the online retailer is rationing supplies of dry ice to avoid running out altogether. It has also scrapped some promotions on frozen items.
Industry-wide problem
While Ocado was the first retailer to alert customers to a problem with frozen deliveries, dry ice shortages are shaping up to be an industry-wide problem.
On Monday, Morrisons' website, too, was displaying notices informing customers of problems with frozen food deliveries because of the CO2 crisis.
Its notice said: "Some of our frozen products are affected by the UK's shortage of carbon dioxide. We are sorry if they are out of stock. We aim to sort the problem quickly but in the meantime we have similar fresh products available."
A spokesman for Morrisons said: "Some frozen products are now affected by the current shortage of Carbon Dioxide in the UK and we are sorry if customers find they are temporarily unavailable on our website. We do have a full range of very similar fresh products and we aim to resume selling our full online range of frozen products as soon as possible."

"Obviously the CO2 issue is affecting the industry in a variety of ways," said one retail source. "In this case, CO2 is used in dry ice and that is used to keep deliveries of frozen food frozen."
On how severe the impact could be on the UK grocery, the source said: "It all depends how quickly it is resolved," adding it could become a "much bigger issue for the whole of the UK grocery industry".
However, frozen food specialist Iceland has already come out to stress it is not affected by the dry ice shortages as it does not use dry ice for its deliveries.
A spokesman said: "We use refrigerated vehicles rather than dry ice so this has no effect on us."
The Grocer was awaiting clarification from other leading supermarkets on the impact of the dry ice shortage, including Asda, Sainsbury's, Morrisons and Iceland. A Tesco spokesman said there were no availability issues.
Frozen food is just the latest in a series of products revealed to be in short supply as a result of the CO2 shortage which emerged this week, with others including carbonated drinks, beer and poultry.
John Hyman, chief executive of the British Frozen Food Federation, said: "We are in the process of investigating these reports further and will continue to communicate with our members throughout this process while we establish the facts around the root cause. We are currently working with members to establish if they are affected by the shortage and how any potential issues can be mitigated as smoothly as possible."