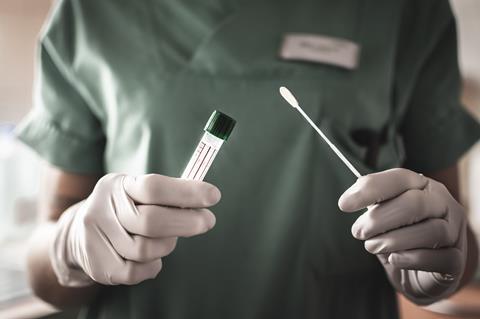 Industry leaders have called for food sector workers to be prioritised for Covid-19 testing, after holding crisis talks with the embattled boss of the government's track and trace system.
Dido Harding, head of NHS Test & Trace, held a video call today with a raft of supermarket bosses, manufacturers and trade bodies, amid huge criticism over the government's rollout of the testing system.
Suppliers and retailers warned the industry faced a potentially disastrous spike in absenteeism amid growing evidence of a second wave of the virus, which they said could lead to fresh food shortages unless ministers stepped up efforts to safeguard the supply chain.
The Grocer understands the government is prioritising certain workers, in a bid to tackle the massive backlog in tests that has seen some people waiting hours and travelling hundreds of miles.
However, the meeting was told current plans excluded food workers from the new prioritisation list.
Harding is understood to have admitted that demand for tests was "outstripping" capacity. She told the meeting NHS Test & Trace was building an "operation the size of Tesco in nine months" in its efforts to deal with the crisis.
The government's test and trace app is set to launch on 24 September. It has been trialled in Newham, with one pilot at a Tate & Lyle factory, to try to ensure it can protect staff while preventing mass absenteeism from people having to self-isolate.
Today's meeting heard food production had escaped relatively lightly from Covid so far, with only around six closures from 180 outbreaks, with many factories operating a system of segmentation to try to keep groups of workers apart. Absenteeism stands at around 5%, compared with over 20% in the peak of the first lockdown.
Read more:
However, a source said with much greater community activity than in the initial lockdown, such as the return of schools, food factories were vulnerable to closures in a second wave, especially with the winter flu season looming.
"The testing shambles at the moment means there is a real risk that the number of confirmed cases is the tip of the iceberg and that that will become apparent in the next few weeks," he said.
"That is why the government is pressing the panic button and we have all these extra restrictions and lockdowns being brought in.
"Until recently the government had been in complete denial about the problems in the testing system but at least now it recognises it has to do something.
"The food industry has a good record of operating throughout this crisis, but although we are battle-hardened the worry has to be that if community transmission does grow in a second wave then this will have very serious implications for the sector. We can see significant problems looming."
As well as Covid testing, the industry is calling on Defra and the Department of Health to prioritise food workers for flu jabs in the coming season.
Meanwhile, prime minister Boris Johnson has not ruled out a return to national lockdown, if recent measures to reduce community transmission such as the rule of six fails to bring down cases.
However, industry leaders have also expressed concern over the prospect of a mish-mash of different local lockdown rules coming in across the UK, which they said risked chaos for industry.
"A return to a national lockdown would be a total disaster for the industry, from which many firms might never come back," said one source.
"However, there are concerns that a whole series of local lockdowns, each with different sets of rules, is a recipe for confusion."
The BRC told The Grocer it wanted a "more co-ordinated" approach to local lockdowns with a "well worked-out set of procedures, definitions and understandings" used by enforcement bodies, business and the community.
"Retailers need as much clarity on what future local lockdowns mean for businesses," said Graham Wynn, assistant director for consumer, competition and regulatory affairs at the BRC.
"We are is calling for government to create a number of 'off the shelf' approaches to local lockdown that local authorities can use, instead of creating totally different ones each time."