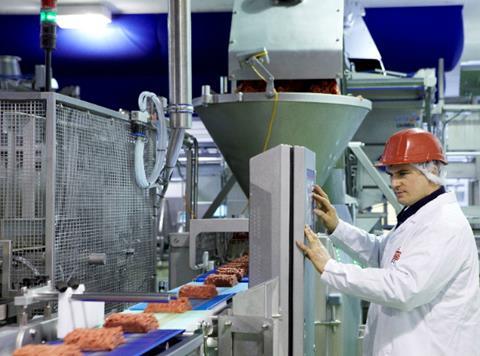 Last week's FDF quarterly business survey confirmed input costs are rising. Ingredients, packaging and energy costs are all putting pressures on food manufacturers' bottom line and, following this summer's heatwave, it's only going to get worse.

We've already seen Brussels sprouts are under threat due to 'hostile growing conditions' and with global warming increasingly affecting the weather, certain resources are going to become scarcer. Add to this the Brexit-induced fall in the pound and they are also going to become more expensive, with costs then pushed down the supply chain.

The ongoing PR nightmare around cutting the UK's reliance on plastic and the sector's need to reduce waste, water and carbon levels all highlight how the industry is under significant pressure to change - to reduce costs, to counter fluctuating prices and to become more efficient and sustainable.

One 'solution' food manufacturers have started to adopt is automation. The sector has been slower than others (namely pharmaceuticals and automotive) in embracing it. But it has started, and this should help reduce labour costs and increase productivity.

But while increased automation will drive efficiencies in terms of cost per unit, it also increases energy costs. So food manufacturers need to take this into account.

It comes back to the old demon that haunts the grocery supply chain: resource waste (energy, water, material). The sector needs to become more efficient if it is to maintain profitability.
Manufacturers, retailers and everyone in between need to pull together to systematically counteract concerns raised in the FDF report. To do this, a change in mindset is needed.

In the UK, best-in-class manufacturers improve the resource efficiency of their factories by 7% per year (halving their resource intensity over 10 years). The industry average is only 1% improvement and some food manufacturers are realising a lot less.

Part of the problem is that most factories don't have the capacity, knowledge or tools to manage the hundreds of small actions needed to improve their resource efficiency, and hiring consultants is too expensive. So significant damage is done to the environment, while millions of pounds are wasted.

Based on our experiences at Manufacture 2030, efficiency leaders, large and small, are finding ways to address the issue, often using digital platforms and software solutions to help them prioritise and take action safely. Above all, they are breaking the traditional mindset that thinks progress on resource efficiency necessarily competes for attention with maintaining high quality output. As the leaders demonstrate, these no longer need to be competing priorities.

The food manufacturing sector is entering what could possibly be described as its most unstable era, as political and socio-economic challenges take hold. Manufacturers need to act before costs spiral. One way to do this is to start using resources more efficiently.

Martin Chilcott is CEO of Manufacture 2030