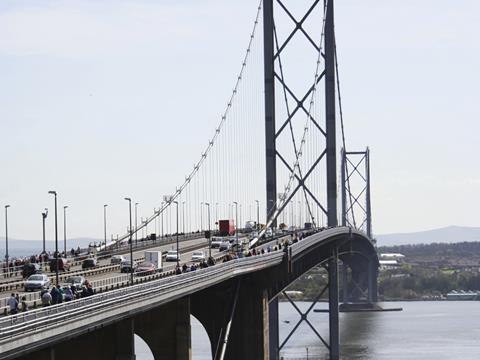 The Freight Transport Association has urged the Department for Transport to deliver on its promise to reopen the Forth Bridge to heavy goods vehicles by the middle of next month because of the huge cost its inaccessibility is incurring on its members.
The bridge provides a vital link between Edinburgh and Fife in Scotland but was forced to close on 3 December so repairs to a crack in the steelworks could be undertaken, imposing a 50-mile detour on freight transport.
The FTA welcomed an announcement from the DfT last night that the European Commission had approved a further relaxation of drivers' hours in Scotland to allow for the detour.
The bridge reopened to most traffic on 4 January but not to vehicles of more than 7.5 tonnes.
Chris MacRae, the FTA's head of policy for Scotland, told The Grocer the DfT had previously promised the bridge would reopen to all traffic by 4 January.
MacRae said the closure of the bridge to HGV traffic had had a "significant" impact on members, which included all the main supermarket groups, because of delays the detour caused.
The detour was costing many vehicle operators £2,000 to £4,000 a day in extra fuel and drivers' wages.
"This started in the run-up to Christmas, which is the worst time going."
He said the 4 January reopening date to HGVs had now been postponed to 15 February. "They better stick to that," MacRae warned. "We cannot be here again."
Karen Dee, the FTA's director of policy confirmed: "The first minister offered reassurance that the bridge would reopen to all vehicles on 4 January so the delay has been a devastating blow for FTA members.
"The additional costs incurred by the 50-mile diversion are significant, especially when contracts have already been signed and there is no opportunity to recoup the money."
She added that the extension of the drivers' hours relaxation would help operators to manage their fleets while the diversion was in place but the priority must be to get the bridge open to HGVs as soon as possible."