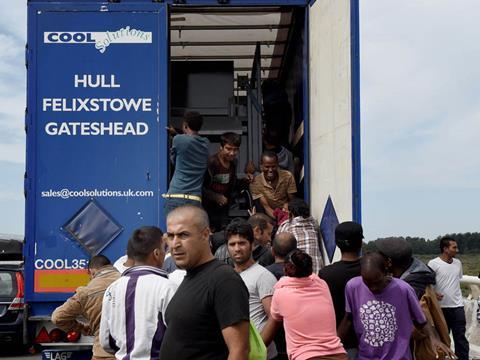 The Freight Transport Association (FTA) has urged all freight operators to sign up to an accreditation scheme to protect themselves against penalties should illegal migrants be found on hiding in their vehicles.

Border Force introduced the voluntary scheme last year to reduce haulage companies' risk of fines by ensuring they have effective systems in place to reduce the possibility of stowaways.

New branding is available for participants with an accreditation mark on their trucks and on documents to highlight their membership.

"FTA is urging its members to sign-up to the Civil Penalty Accreditation Scheme. This is the best way of protecting themselves - and their drivers - from financial penalties if migrants should be found on board their vehicles," said FTA EU affairs manager Chris Yarsley. "With the continued scenes of migrants targeting UK- bound trucks in Calais we are encouraging all freight and logistics companies operating vehicles through the port to take every security measure available to them."

Yarsley said the trade group was talking to the European Commission, which was looking to develop guidance for drivers across the EU.

Vehicle owners, hirers and drivers can be fined up to £2,000 for each clandestine entrant they carry.

Border Force said fines would not be imposed on those found with illegals as long as they were operating in accordance with the scheme, which is open to road haulage companies of any size or nationality operating between the Continent and the UK.

The FTA voiced its alarm last summer at the worsening situation at Calais, which meant lorries were waiting hours to reach security checkpoints where more rigorous vehicle examinations had been put in place.