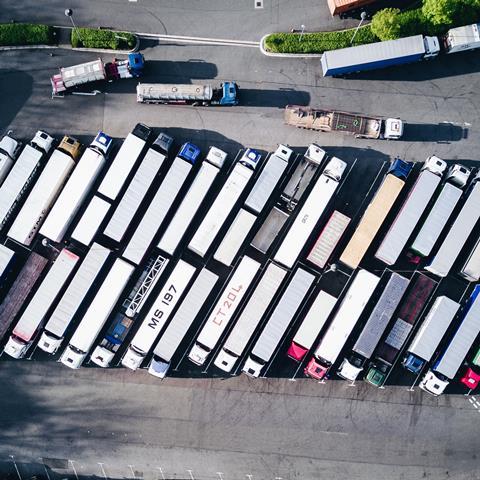 Swathes of food lorries are standing idle as haulage companies struggle for survival following the collapse of the foodservice sector.
Haulage company closures will leave a potential gap in the supply chains of retailers who rely on the many small independent hauliers to bring goods from food factories and ports to their distribution centres.
About a third of the food lorries used by supermarkets and foodservice have come off the road since the downturn, according to a recent industry survey of 4,500 firms by the Road Haulage Association.
"We're seeing small and medium-sized haulage fleets struggling for work and that means drivers are being sent home," said Jack Fleming, CEO of Chill-Chain, a cold chain logistics platform. "Unless a company is one of the few that solely supplies supermarkets…you're seeing fleets really struggling."
The loss of smaller hauliers would particularly impact the early stages of supermarket supply chains, Fleming said, as from their distribution centres, they tend to use their own lorries or lease from bigger hauliers such as Eddie Stobart, DHL or Wincanton.
They were unlikely to see an immediate impact on supply, Fleming warned, "but next time there is a surge the capacity just won't be there".
The return of customer demand to more typical levels is making it even harder for hauliers to make up the shortfall.
"If 50% of your business is normally foodservice and that's shut, then grocery demand is not operating at 200% to make up for that," said Shane Brennan, CEO of the Cold Chain Federation.
Although efforts will be made to fill the gaps, the geographic specialism of many operators could make it difficult to adapt.
"There will be lots of work to try and fill those gaps but it's only possible to a certain point," said Brennan. "The problem is … no one's operations are available to just automatically take over."
Logistics companies rely on small returns from a high level of activity, making it difficult to remain profitable when operating under capacity. Hauliers are therefore calling on the government to provide businesses with grants rather than loans, which they fear will be unsustainable in the long run.
"We need to be protecting the businesses seeing a downturn in trade, while also ensuring that where we're seeing big increases in demand, that as an industry we can fulfil that" said Natalie Chapman, head of urban policy at the Freight Transport Association.
"We do have the drivers, we do have the vehicles, we just need some rejigging."
FTA launched an online platform this week to support businesses during the outbreak. It links retailers in need of logistics staff with available workers and vehicles.