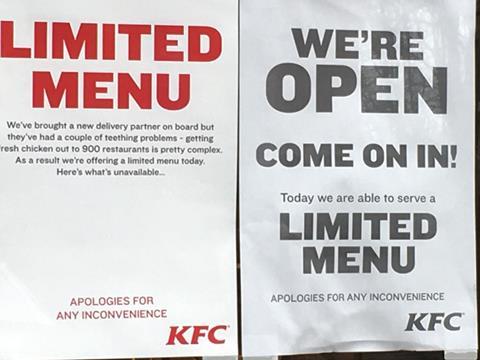 KFC has been hit by fresh supply chain problems five months after a botched switch of logistics providers led to the temporary closure of hundreds of restaurants and reduced menus across the UK.

The fast food chain admitted that it had experienced "delivery delays" due to an update of its IT systems at its Rugby DC last week.

A KFC spokesman confirmed that a "planned system update last weekend [23 and 24 June] created delivery delays in some areas at the start of the week".

The changes had a "small" impact on customers and the company's day-to-day business due to "longer working hours, which meant we got through the backlog and minimised the impact," he said.

The Rugby site, which is operated by DHL, was at the centre of the highly publicised availability crisis that struck in February after KFC switched its distribution contract from Bidvest Logistics to DHL and QSL Logistics. The resulting lack of chicken led to more than half of the company's 900 restaurants having to be closed temporarily, with many more only able to offer a limited menu.

KFC then went on to reinstate Bidvest to service up to 350 outlets in the north of the UK.