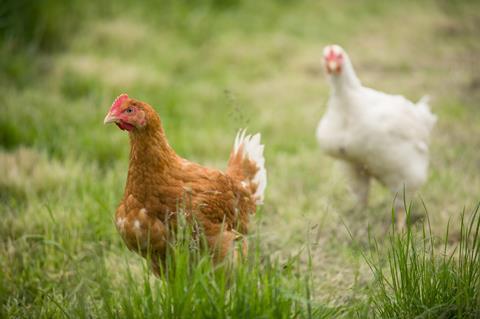 Last week's food strategy offers hope of some progressive food and farming policies and, with more enthusiasm and pace of change, I'm optimistic the retail sector can do what it takes to help transform the food system for the better.
The government's food paper will perhaps have presented more questions than answers, not just among health campaigners but farmers too. Phrases like "more domestically sourced food", "investment into agricultural innovation and technology" and "additional seasonal workers" will provide some encouragement. But many will rightly remain sceptical until they see detail and action.
One of the proposals I am particularly pleased to see is mandatory animal welfare labelling for domestic and imported products being improved and expanded, so the public can see how and where food was produced and, most importantly, whether it is produced to high standards. Shoppers may question why they should care about this given current financial pressures, but it is significant and here's why.
For decades, we have adopted higher farming and welfare standards at Waitrose – not because it gives us an advantage commercially, but because we're a purpose-led organisation and we think it's the right thing to do. It gives animals a better quality of life, our farmers pride and happiness and, because better standards necessitate better farming practices, it can help reduce our impact on the environment too.
You can design food systems to deliver the lowest possible cost and not care about or value the planet or the wellbeing of the people and animals involved in it. Inadvertently, that's exactly how many of the food systems that supply UK consumers work today. But there's no such thing as low price with no consequences.
Large parts of the food supply chain are still reliant on agricultural practices that put the lowest possible cost ahead of even the most basic standards of animal welfare. Farming to higher standards does increase the cost of production and that inevitably leads to a higher shelf price. But the British public cares about the standards their food has been farmed to, and I firmly believe there is a growing majority looking for ways to do the right thing.
If that's true, it's crucial for customers to be equipped with good and reliable information. Clear animal welfare labelling would help customers make informed choices, improve the transparency of UK supply chains and help avoid the risk of our farmers' standards being undercut by lower-welfare imports.
Another of the recommendations in the National Food Strategy that didn't make it through was a call for a reduction in UK meat production of 30%. This is no small thing, but we're clear that the goal isn't to stop meat production entirely. The goal is to support a more balanced diet – for example, where someone might shift from eating meat six or seven times a week to having it a few times a week, and eating better meat in addition to more plant-based foods, plant protein, whole grains and veg.
Choosing 'less but better' meat again requires a reliable and transparent welfare labelling scheme. If shoppers can clearly see where their food has come from and the conditions it was farmed to, they can make better, more informed choices. We have seen clear evidence with eggs and the wide adoption of free-range produce that clear labelling and standards can prompt a shift in consumer demand for higher-welfare products.
So the signs are positive and we will continue to take bold action for people, animals and the planet. My hope is that government continues to find ways to champion British farming at the heart of our food system. There are many open doors government could push, including the Compassion in World Farming awards, which has decades of expertise as an independent assessor of farm animal welfare.
Transparent food labelling is so important, and it's such an important step towards the type of behavioural shift needed among food retailers to create a better and happier world for all.