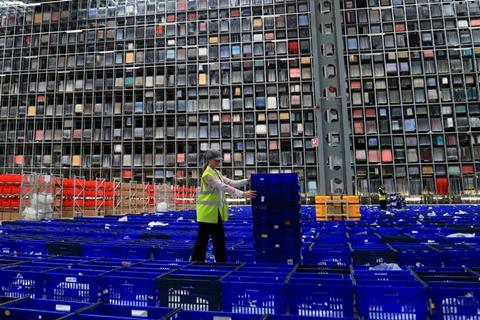 M&S is to open a new distribution centre in Milton Keynes next month as part of plans to modernise its supply chain.
The 365,000 sq ft DC will supply ambient M&S food lines to the south of England regions and increase the retailer's ambient product capacity by up to 60%, giving shoppers access to a "bigger and better range" suitable for a weekly shop, according to M&S.
This includes a broader range of cleaning and household items, groceries including baking and scratch cook essentials, soft drinks and wine.
It will also create 360 jobs and be operated by XPO Logistics.
The DC comes as part of M&S's 'never the same again' transformation programme, created to resolve its long-standing issues in food availability and waste, as well as drive greater improvements for customers.
This has already seen the retailer launch its Vangarde programme in 93 stores, which aims to reduce waste and improve customer experience through improved shopkeeping processes such as better forecasting, allocation and stock counts. It has resulted in more productive stores generating lower waste and higher sales, M&S added.
The programme will be rolled out to M&S stores nationwide during this financial year.
"Our new distribution centre is great news for Milton Keynes and a major step forward for M&S, unlocking the value of our food supply chain and supporting our future growth plans," said Stuart Machin, food MD at M&S.
"Many of our customers' shopping habits have changed over recent months and our new distribution centre will enable us to respond faster and more flexibly to customer demand, providing greater product availability and significantly improving the service we provide our customers."