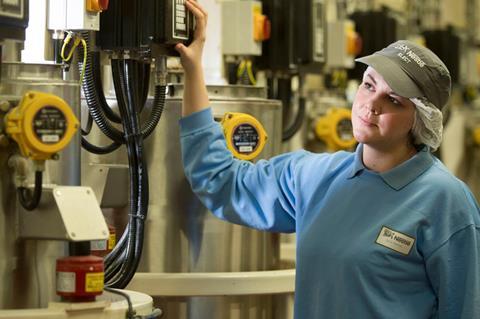 Our industry should feel proud of the leading role it has played in response to this pandemic.
Very early in the crisis, the world realised what we already know well – that people working in our sector are key workers and the role we play in society is crucial. Throughout this period it has been vital that we continue producing, manufacturing and distributing the highest-quality food and drink in the safest possible way.
At Nestlé, our first step was to introduce new measures and guidelines on top of our already stringent approach to safety. It means that our factories have continued to operate throughout the pandemic and, in many cases, have stepped up production to meet unpredictable demand.
We are not complacent. As positive cases rise across the UK and Ireland we must be more vigilant than ever and uncompromising in our approach to people's health and wellbeing.
Meanwhile, the areas of our business that touch retail and hospitality have, of course, suffered the most through the lockdown. We stand in solidarity with our friends, customers and colleagues in the out-of-home sector who are navigating such uncertain times with passion, dignity and ingenuity.
Beyond the here and now, we need to have an eye on the future. Our role in this moment is unquestioned but the pandemic will pass eventually and what then? Just as food and drink has been vital to the crisis response, it will be fundamental to the recovery.
Defra will publish the National Food Strategy in 2021 which will, alongside the challenges we are facing now, provide a unique opportunity for industry and government to come together and shape the future. I am working with colleagues across the supply chain, as part of the Food and Drink Sector Council, to make sure that the government's view of the future UK food system is informed by those who know it best.
We should take this chance to look at how we can do things differently. Nestlé is doing that in five ways. We want to adapt our business for the new future as consumer and cultural trends shift and we will use what we've learned this year to create an even more flexible and diverse workplace for our people.
Then, beyond the walls of our offices, factories, stores and warehouses, there are urgent societal concerns that demand our attention.
Those at the start of their careers are seeing their opportunities limited by the impact of Covid-19. This is the time to back young people and to remember what they bring to our businesses: a mix of energy, fresh thinking and new skills. Despite the pandemic, we have prioritised the on-boarding of apprentices, graduates and interns into our Nestlé Academy and we are now increasing the number of placements into 2021.
Similarly, we cannot forget our considerable obligations to the planet. I genuinely believe food and drink can be part of a truly green recovery and our collective efforts in areas like packaging, climate change and the responsible sourcing of ingredients will be more important than ever.
Finally, Marcus Rashford's taskforce to end child poverty has put the spotlight on an issue that really should not exist in 2020. We are proud to be a part of that effort and have been working with partners including Community Shop, FareShare and FoodCloud to invest in improving access to food for vulnerable people across the UK and Ireland. It is not OK for people to go hungry and ours is the industry best placed to make a difference.
We can be very proud of our actions and achievements through what has been an unquestionably tough period. There is now a real chance to put food and drink at the heart of the recovery, so we should take it.