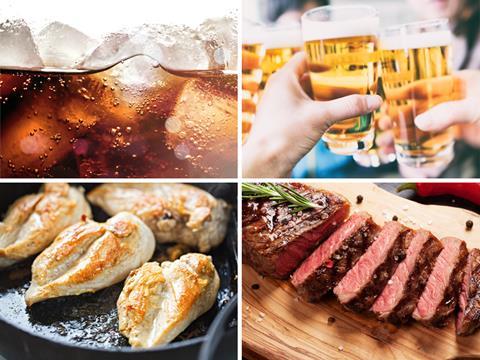 More retailers and food manufacturers are facing supply disruption amid warnings the CO2 crisis will last at least another two weeks.
Asda has begun limiting online orders of soft drinks, and while the other major retailers told The Grocer they had no plans to follow suit, some appear to be struggling with supplies.
Morrisons has run out of big bottles of Pepsi Max online, as well as some R Whites, Lilt, Schweppes and Sprite lines, and some own label fizzy drinks [Brand View 2 July 2018], while Sainsbury's and Waitrose are also out of stock of selected SKUs from Britvic and CCEP brands, despite assurances the two suppliers are continuing to fulfil orders.
One big problem facing fizzy drink producers is the fact they hold limited stock of their products, and demand has hit unexpected highs due to the current heatwave, said Neil Murray, an analyst at Informa's Agribusiness Intelligence.
One of the UK's CO2 plants in Billingham, County Durham has resumed production today (Monday 2 July). However, soft drink suppliers expect shortages to last for at least another two weeks, if not until the end of the month.
"The big plants have got to start cranking up production," said Murray. "It takes time to get the factories back up and running and it will take time to replenish stocks."
With more hot weather forecast for this week, soft drink supplies "could get tight", he warned.
Empty shelves
Disruption across the meat sector is also expected to continue for up to three weeks, British Meat Processors Association CEO Nick Allen warned this morning.
Despite the Billingham CO2 plant restarting production today, it would take time to filter through the supply chain and the BMPA was "still expecting meat plants to be experiencing problems over the next two to three weeks until normal supplies are fully restored," Allen said.
Plants are having to improvise on packaging and compromise some ranges to ensure shelves are kept full.
''We are hoping that the increase in CO2 production will happen quickly. We have a number of plants that will be in difficulty by the end of the week if supplies do not materialise and it will be very difficult to keep everyone stocked with meat," Allen warned.
"Logistically, it is proving very challenging for the meat supply chain and everyone is working hard to overcome the problems. Demand is particularly very high at this time for barbecue meat due to the hot weather and, of course, the World Cup."
Allen's comments were echoed by British Poultry Council CEO Richard Griffiths, who warned poultry suppliers were in a "cycle of repeating uncertainty".
Supplies were "trickling in" with poultry processors employing contingency plans, he said. "We're making do but we are still close to the edge," he stressed.
Tulip last week secured a one-week Scottish government derogation, allowing it to call pork slaughtered in England, Scottish, after the Brechin plant it runs in partnership with Scottish Pig Processors was forced to close due to a lack of CO2.
Meanwhile, Cranswick group commercial director Jim Brisby warned the meat giant expected at least another week of disruption.
"We've got through this by the skin of our teeth so far. We get allocated a certain amount of CO2 by our supplier as part of our contract, but we are currently only given 24 hours notice over whether that supply will come through or not," he said.
"So we've not been affected as of yet, but we are potentially at risk as much as anyone else. The vast majority of our plants have a reasonable amount of stock, but this whole situation just highlights the fragility of the industry when it comes to CO2 supply, and if it's delivered to one site and we have shortages elsewhere, the supplier needs to transport it to that site – it's a very specialist operation."
The CO2 crisis demonstrated the fragility of "just in time commoditised supply chains", added Black Farmer founder Wilfred Emmanuel-Jones.