Two thirds of us have no idea what we are having for dinner tonight. Yet the chances are that, whatever we desire, it is there for the taking from a supermarket shelf on the way home or with the swipe of a smartphone for delivery to our door.
We assume it will be available thanks to the everyday miracle that is the modern grocery supply chain, a potential source of competitive advantage for suppliers and retailers alike.
Yet despite its growing importance, the chain is struggling to find the right people with the skills to run it. It's a challenge that spans the length and breadth of the chain, from entry-level positions in warehouses, through administrative and middle management layers, right up to board level.
Part of the problem is that the supply chain has become more complex, more reliant on data and is moving faster than ever, which means it also requires new skills sets, says David Jones, Waitrose supply chain director and co-chair of the UK supply chain talent work group at IGD.
"When I began my career in the 80s, supply chain was about moving boxes to shops on the high street," says Jones. "Now it runs 24/7, with deliveries to different-sized stores; and to homes; customers are more demanding than ever; there's more focus on fresh foods; and the need to get things there quicker. There's a need for agility and a more holistic approach."
As well as increasingly sophisticated hard skills including IT, data management and forecasting, 'soft' skills are also required because the sector is ever-more reliant on collaboration, integration and partnership between suppliers and retailers, says Jones.
IGD is tackling this need on multiple fronts. Its new job swap programme is designed to promote personal development and knowledge sharing between suppliers and retailers by enabling midranking managers to swap roles for between six months and a year.
A second scheme called the Efficient Consumer Response UK mentoring scheme, pioneered by IGD, was launched in 2013 with the aim of skilling up the next generation of supply chain leaders.
Burton's knows boosting its supply abilities will also boost its brand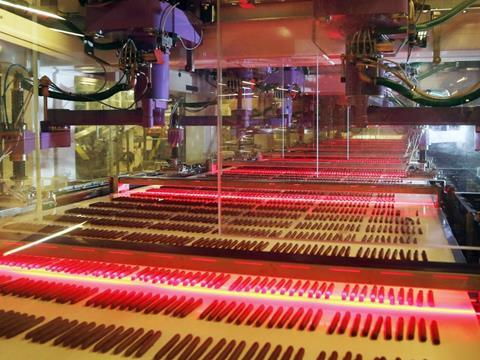 Burton's Biscuit Company, owner of brands including Wagon Wheels and producers of Cadbury Fingers (above), has put its supply chain middle managers through the Institute of Leadership & Management level 5 award in a bid to improve their skills and equip the business for continued growth.
Jackie Kent, Burton's HR director, says the biscuit giant chose supply chain managers to complete the course first before rolling it out to managers in other functions.
"Supply chain is the heart of our business and impacts our customers on a day-to-day basis, so it's important to get it right. Having the right skills and talent in our supply chain has a direct influence on our cost base and our ability to drive efficiency and improve.
"It is important for all suppliers and retailers in the food and drink industry to invest in and develop talent from within. The food industry has historically found attracting the best talent challenging, as there is fierce competition with the automotive, IT and pharmaceutical industries. Our industry is not always an obvious choice for talented individuals," says Kent.
The training has allowed Burton's to drive the business forward and "helped us realise our ambitious growth plans," says Kent. "These initiatives also improve our employer brand, which increases our chance of attracting high-calibre talent to the company, so it is a self-perpetuating cycle."
In the first year 17 board-level mentors worked with colleagues below board level, sharing their industry insights and experience. The awardwinning scheme has been scaled up in 2014 and will grow further next year and beyond, says James Tupper, IGD's Efficient Consumer Response learning and change manager.
The IDG is also increasing its supply chain activities within its Leading Edge Academy. In the third quarter of 2014 it will be staging supply chain masterclasses around the UK led by wholesalers and suppliers.
As the industry evolves, there is more onus on individuals to use such networks because, increasingly, they are having to take responsibility for developing and updating their own skills. This is in part because internally provided supply chain training is still so limited, says Holly Porter, marketing director of industry supply chain body GS1 UK.
The supply chain is gaining more recognition at a senior level. Sir Charlie Mayfield told attendees at a recent BRC event: "The lowly quartiers of logistics and IT are seeing some of the most important developments," and he reckons "IT is now the most important item on the retail leader's agenda."
"More board members have supply chain as their function. But individuals need to take responsibility for their own skills"
But in too many cases staff still don't receive the internal development training they need to develop their careers fully, says Porter. "We are seeing more board members with supply chain as their function, but individuals still need to take responsibility for their own skills."
The Chartered Institute of Logistics & Transport's Aspire initiative aims to bridge this gap by providing grant funding for junior to middle managers to gain industry-recognised supply chain qualifications in areas including transport planning, Lean Six Sigma and operations management. It offers grants of up to £1,000 to subsidise or in some cases fully pay for supply chain training.
Aspire is also working with other charities to attract greater numbers of recruits at entry level, says Porter, who is on Aspire's working group, including Get into Logistics - a project with The Prince's Trust - and a forklift training programme with West Berkshire Training Consortium.
Untapped potential
The gender imbalance in supply chain - women make up just 17% of the workforce - is another area of focus and opportunity, says Sophie Austin, head of talent management at distributor Wincanton.
There is a growing female presence at senior management level in supply chain but much more can be done. Clear career pathways, more flexible work practices and one-to-one mentoring will help the industry attract, retain and develop female talent, says Austin.
Wincanton is also working to promote supply chain careers to youngsters. It is a founding member of supply chain graduate scheme the Novus Trust, which helps recruit and support students at the University of Huddersfield's new supply chain degree course. This provides mentoring, holiday work and sandwich year placements with the aim of creating a pool of graduates with advanced IT and commercial skills. Novus is also working with fmcg retailers and CILT to develop a master's programme, says Austin.
In the long term, the industry will need more recruits at all levels and must increase awareness further about the range of opportunities, says Austin. "We already get out into schools to talk to students at GCSE and A level about careers in logistics, explaining the career paths they could have." Reaching children in primary schools should also be explored, she adds. "There is huge untapped potential in getting to children earlier. We are lookng at ways to reach them before they make their choices. At 16 and 18 it may be too late."