There is more to these machines than the ability to deliver goods door to door: they're being used in warehouses, DCs and even in agriculture
When Nestlé opens its new state-of-the-art distribution centre in the East Midlands later this year, it will be lifting the lid on one of the most technologically advanced DCs in operation in the food industry – and drones are set to play a starring role.
But if that conjures up images of Kit Kat airdrops and jars of Nescafé delivered from the sky, think again.
This isn't about the last mile. In fact, it's not about delivery at all. Nestlé will be using indoor drones, designed to operate across its site to help with stocktaking and safety checks.
"Drones equipped with high-quality 4k cameras mean we can avoid working at height, something the law asks us to do wherever possible," explains Nestlé group safety, health and environment adviser Gary Dripps. "Using drones for jobs like checking factory rooftops following severe weather, or solar panel inspections, is affordable, quick and avoids working at height using scaffolding or cherry pickers."
Nestlé is just one of a growing number of food companies proving there's more to drones than high-profile delivery stunts. They are using drone-based tech to tackle a surprisingly wide range of business challenges, from on-site safety checks and crop forecasts to traceability audits and inspections.
So what's driving this uptake of drone tech? And what are the most promising applications for drones in the food industry?
Understanding why and how drones are used in food starts with understanding what drones are good at: they can go high, they can go wide, they're fast, they can capture images, they can measure and they can see things the human eye can't.
Given these attributes, it's little surprise that agriculture has been an early – and enthusiastic – adopter of drones.
Often this takes the form of mapping. "Essentially, we're generating what looks like a satellite map but is much more detailed, from flying a drone over a field," says Alex Macdonald-Smith, operations team member at DroneAg, a Northumberland-based startup that's developed a crop-scouting app for farmers and works with Kellogg's. "It gives farmers a much better overview of their crops."
That bird's eye perspective is just the beginning. When combined with sophisticated, multispectral sensors and machine learning capabilities, a drone-based 'eye in the sky' can give farmers highly granular insight about the health and performance of their crops, right down to the level of chlorophyll in the plants and humidity in the soil.
At G's Fresh, whose total cropping area in the UK comes to nearly 6,000 hectares, drone-captured images are analysed using a proprietary algorithm to count how many established plants there are in each field, and how big they are. "This lets us better forecast how much crop we'll have available, the final size of the crop, and better understand the effect each of our fields has on variation within batches of crop," says G's innovation analyst Iain Flint.
It's precisely this level of insight that is prompting more and more food companies to build up their own drone fleets, train up their agronomists to analyse drone-captured data or partner with drone tech providers. "Big companies like Kellogg's all need to know what's going on in their fields – and using drones is a quick way of doing that," says Macdonald-Smith. He confides that DroneAg has recently received interest from another major (as yet undisclosed) food brand.
In addition to monitoring and predicting yields, drone data also allows growers to diagnose diseases such as potato blight at an earlier stage and create variable spraying maps that allow herbicides to be applied only where needed.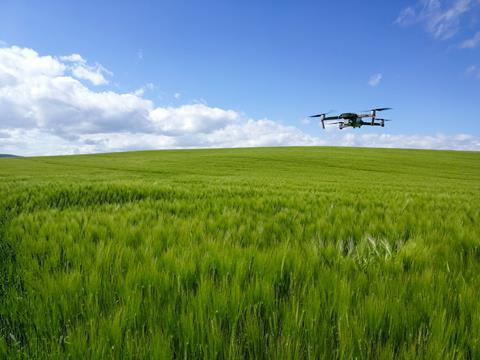 "Traditionally, what companies would do is to spray herbicide across the fields. But that has a cost, and particularly an environmental cost," says Thomas Nicholls, chief marketing officer at drone maker Delair.
"What you can do with drones is create a so-called digital twin – a digital replica of the field – that tells you not just that you might have weeds or you might need to put some sort of product in the soil, but also exactly where you need to put it. That dramatically reduces the amount of herbicide you need to use."
The use of drone-captured images and data goes far beyond horticultural and arable fields, though. Livestock farmers are increasingly using drones to count cattle and even to herd sheep. First pioneered in Australia and New Zealand, it's an approach that's now being adopted in the UK, with Shropshire farmer Wojtek Behnke recently making headlines for training his sheep to follow a drone.
In the US, meanwhile, Tyson Foods has begun experimenting with drones for a variety of uses, including animal health and safety. "We're exploring the use of drones to safely inspect our buildings and keep our facilities secure," wrote Scott Spradley, Tyson's executive VP and chief technology officer, in an op ed for CNBC last May. "Eventually, if the pilot is successful, the idea is we'd even use drones to help us with animal tracking, herd management, identify animal safety issues or animal health concerns."
At a time when consumers are demanding more transparency about how food is produced, drones are also starting to be used in supply chain audits and to help support traceability efforts.
From drone to fork
Delair is working with John Deere, the agricultural machinery maker, on a concept called 'from drone to fork', which is all about using drones to provide traceability, says Nicholls. "It's about tracing exactly what is happening in the first part of the supply chain. How are raw materials being produced and under which circumstances?"
Nicholls cites palm oil supplier Siat as an example of a company that already uses drones to underpin traceability efforts, monitoring palm production across its plantations and measuring environmental impact. He says he's also had interest from a group of wine producers in France, who are considering using drones to keep tabs on whether individual producers in receipt of EU subsidies are using the money as intended.
"At the moment, they have people who drive around in cars and do spot-audits," says Nicholls. "One could very well imagine that most of those use cases would be replaced more efficiently by drones."
Part of what makes drones so useful in these contexts is the fact that drone-captured images are geospatially referenced and time-stamped, says Joanne Murray, a drone technology expert at PwC.
"We call it the golden thread," she adds. "It's producing data that can't really be disputed."
It's a point echoed by Nicholls. "Data and traceability are about trust, and drone-captured data is a relatively objective and certifiable way of collecting data," he says.
It's not just in fields, plantations and vineyards that the ability of drones to capture objective data is delivering major benefits. Manual stock checking in distribution centres is often labour-intensive and requires working at height – and one wrongly copied number or letter can mean the work needs to be repeated. If a drone takes a photograph of the stock number instead, it can be checked and rechecked at leisure.
As Nestlé's new RDC shows, safety is another major driver of drone adoption in warehouses and manufacturing plants. Instead of sending a human being into potentially dangerous or hard-to-access areas, such as silos, drones can be used to carry out checks and inspections more safely and quickly. They can also be significantly cheaper.
Nestlé says it's also found drones useful for training purposes, particularly when producing employee and contractor induction films. "Drones can clearly display the layout of a site and footage has been used to highlight important areas like evacuation muster points, ammonia plants and access roads," says Dripps.
Yet despite the growing number of use cases in the food industry, deploying drones is not without its challenges. With most drones optimised for outdoor use, indoor drones in warehouses or DCs can struggle to deliver good return on investment.
"One way to counteract that is by developing a warehouse that's fully digitally enabled from the get-go, where the drone is factored in right from the start and the whole warehouse is designed for automated stock-checking," says Murray. "But fitting that retrospectively into a traditional warehouse doesn't really work."
There are also UK regulatory challenges. The most significant of these is the requirement to maintain visual line of sight, meaning anyone operating a drone must be able to see it at all times – not ideal given one of the benefits of drones is their ability to quickly travel across large areas of land.
"Companies don't realise that aviation is heavily regulated and slow-moving"
It's possible to apply for exemptions from the Civil Aviation Authority (CAA), but the process is inflexible and in need of modernisation, says Joe Taylor, assistant manager in the infrastructure advisory group at KPMG.
Having said that, the industry should also be doing more to make the case for change, Taylor insists. "What companies are missing at the moment is that link to the regulatory point of view," he says. "They look at drones purely from a business perspective without realising aviation is heavily regulated and slow-moving traditionally. The CAA are quite receptive to new ideas, and companies should seek dialogue with them."
Restrictions around spray drones – that is, drones that can spray substances from above – are another major source of frustration. While other countries, particularly in Asia, are taking full advantage of such drones for precision agriculture, UK farmers are not allowed to do so.
"We're really behind when it comes to utilising the capabilities of spray systems," says Jonathan Gill, a mechatronics researcher at Harper Adams University, who is campaigning alongside DroneAg and fellow drone startup Crop Angel for spray drones to be allowed in the UK.
Spray drones wouldn't just help farmers apply chemicals in a more targeted and controlled manner, they could also cut fossil fuel use in farming, says Gill. "A fully electric, multi-rotor spray drone doesn't use any fossil fuels at all. Considering spraying is probably one of the most intensive operations over agricultural/arable crops, it's a system that could be used to reduce the fossil fuels used to care for our plants."
Business objectives
More generally, drone use can run into trouble when companies are taken in by the lure of sexy technology and forget about business objectives. Drone experts are full of anecdotes about companies splashing out on fancy kit before they've figured out what they're trying to achieve and farmers capturing truckloads of data without being able to analyse it.
"The main problem with the use of drones in agriculture to date has been that, yes, you can generate a heck of a lot of data, but you may not necessarily know what to do with that data," says Macdonald-Smith at DroneAg.
In fact, being excited about the very idea of using drones should give pause for thought. What companies should be excited about is the data they can collect. "Drones are just flying sensors," says Nicholls at Delair, while Murray at PwC calls them "a bit of a red herring". "The drone is a tool," she adds. "It's about how it can capture data and how that data is analysed."
Taylor at KPMG concurs. "I see that companies are using drones as a bit of a novelty application," he says. "The question is often, 'We have a drone, how can we use it?' instead of flipping that question around and starting with what you're trying to achieve."
When used as part of a wider technology and data strategy, however, experts agree: there's enormous potential for drone-captured data to transform food businesses, supply chains and distribution channels.
They may not be a silver bullet in and of themselves, but if used smartly, drones really could take food and farming to new heights.
Five key drone tech startups for food and farming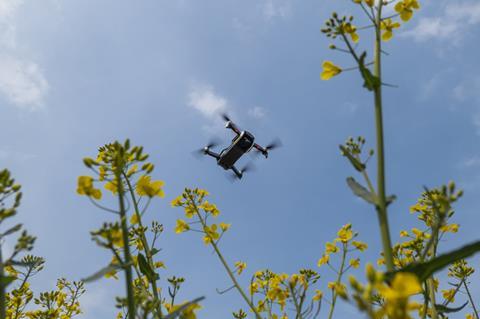 Aerobotics
Founded: 2014
Based: Cape Town, South Africa
With lots of drone tech optimised for arable crops, Aerobotics is carving out a niche with image analytics software specifically for tree crops. The citrus sector is at the heart of its client base, where Aerobotics is helping to detect early cases of costly diseases such as citrus greening by analysing drone and satellite footage.
Crop Angel
Founded: 2015
Based: Norfolk, UK
Against a challenging regulatory backdrop, Crop Angel is on a mission to become one of the first companies to offer crop-spraying drones in the UK. Part of a consortium that also includes DroneAg and Harper Adams University, the company was able to secure a pioneering trial for flying spray drones from the Civil Aviation Authority in 2018 and is currently applying again. Its big battle is now with the government's Chemicals Regulations Division, which currently prohibits the application of pesticides via drones.
DroneAg
Founded: 2015
Based: Northumberland, UK
'Farmers who know drones' is the tagline of this startup, which has quickly made a name for itself thanks to its industry-leading training courses, partnerships with the likes of Kellogg's and innovative Skippy Scout crop-scouting app. Instead of mapping entire fields and creating unmanageable amounts of data, Skippy Scout helps farmers zero in on what's important via a simple smartphone app that can be used with off-the-shelf drones.
Drone Deploy
Founded: 2013
Based: San Francisco, US
Mapping is the name of the game at Drone Deploy – and live mapping is a particular forte. The drone mapping specialist's software allows drone-captured images to be analysed in real time, as the drone is flying, instead of having to be downloaded and processed after the fact.
Hummingbird Technologies
Founded: 2016
Based: London, UK
With backers including BASF's venture capital arm and the Saudi Agricultural and Livestock Investment Company (Salic), AI startup Hummingbird Technologies is one of the biggest names on the UK agritech scene today. Its machine learning and computer vision technology is used to gain insight on crop health, pests and diseases as well as to count plants and predict yields. Following an undisclosed investment from Salic last May, Hummingbird tech is now used across 400,000 hectares of Salic-owned farmland in Australia and Ukraine.