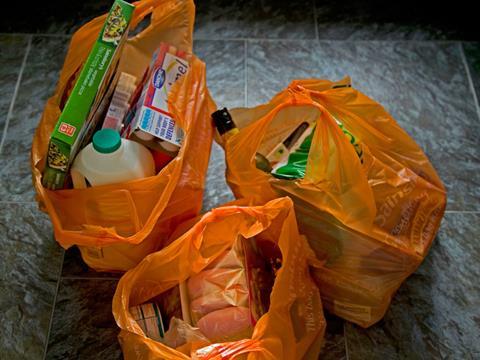 Reports suggest the government is at loggerheads over Theresa May's plan to double the plastic bag tax to 10p.
Never mind that the last of the major supermarkets, Morrisons, ditched 5p bags in favour of only having the more expensive 10p recyclable variety six months ago. The move apparently goes too far and too fast for some in Treasury Towers.
An "explosive row" has been reported by the Daily Telegraph and others, with the bean counters said to be concerned that the move looks like profiteering.
Figures in July showed plastic bag sales in England's biggest seven supermarkets had dropped by nearly 90% since the 5p charge three years ago.
But by then all of the major supermarkets had realised that the 5p single-use plastic bag was not the answer and had either stopped them or begun replacing them with more expensive, recyclable bags. Asda (this year), Tesco (last year) and Sainsbury's (as soon as the 5p tax was brought in), have, along with Morrisons, long beaten the government to the punch on this.
But if the reports of division are true – and this is not exactly the most united of governments – it's yet more evidence that ministers are all over the place with their plastics strategy and well behind the curve of those in the industry who are simply getting on with the job.
As well as the clash over 10p bags, we hear that chancellor Philip Hammond and environment secretary Michael Gove have also fallen out over plans for a 'latte levy'.
According to the Telegraph, Hammond has dissed his rival's idea, which would slap a 25p tax on disposable plastic cups, and is instead pushing for 'very small but significant tax incentives' on single-use plastics.
Such froth is in danger of seeing the government policy descend into farce. Already we have had what sources described as the "omnishambles" around a new DRS system, which is set to be brought in says Gove, even though the government has yet to hold a consultation on the idea. (And we still don't know how it will dovetail with Nicola Sturgeon's plans for Scotland.)
Likewise Hammond wants to push ahead with taxation. This is despite last week's review from the Treasury, which showed businesses almost universally believe it could have unintended consequences such as pushing up levels of food waste.
Meanwhile, retailers are continuing to think of novel new ideas. Today Tesco came up with what seems like a clever new way to tackle the plastic bag menace – using them to resurface one of its car parks in Scotland.
There are also rumours (currently being denied by the retailer) that it plans to ditch plastic film for old-fashioned paper bags or bring your own bags in its in-store bakeries, as Morrisons has already started doing in its fresh aisle.
As for the government, perhaps ministers and the PM should take a truly novel approach on plastic and just shut up about it for a few weeks at least, until they can come up with a joined-up approach.