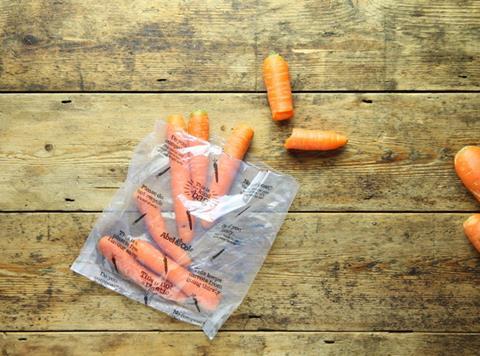 Organic home delivery service Abel & Cole has developed what it claims is the UK's first fully compostable packaging for vegetables.
The entirely bio-degradable bags, which take between six to eight weeks to decompose and debut this week, were developed in conjunction with carbon neutral Finnish company Bioska.
Made from bio-polyester, a synthetic material derived from corn starch, the bags are also said to keep leafy vegetables and produce such as carrots fresher by inhibiting the formation of condensation.
"From time to time, some of our carrots became dehydrated in our veg boxes as the cardboard can draw out the moisture in them and make them a bit bendy," said Will Robinson, head of production at Abel & Cole.
"We knew this wasn't good enough so looked around for a solution which helped our carrots and was good for the environment.
"We've always focused on keeping packaging to a minimum, with returnable boxes and eco chill boxes made from sheep wool, so to develop something which keeps our veg extra fresh and which can go into the compost heap is just amazing."