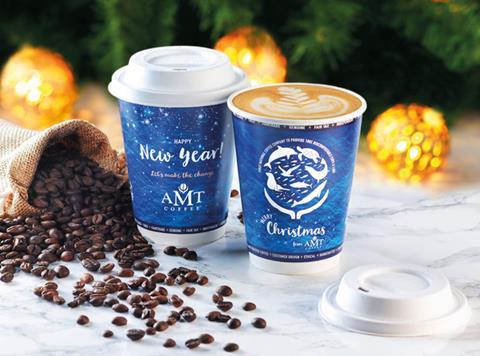 AMT Coffee has unveiled what it claims is a 100% bio-compostable coffee cup and lid made from sugar cane waste.

The retailer, which has more than 50 coffee bars across the UK and Ireland in railway stations, airports and NHS hospitals, said it was the first coffee company to launch the sustainable 12oz receptacle which will cost customers an extra 5p per drink.

Made from plant-based material, both the cup and lid break down at room temperature and can be deposited in a general waste bin.
The move aims to help reduce the estimated 2.5 billion coffee cups that enter landfill each year, AMT said.

Each festive cup carries a blue design and illustrations of sea life including dolphins and turtles.

"This year we wanted to make a serious statement about the importance of making the change for our blue planet and all that depend on it," explained Alistair McCallum-Toppin, founder and managing director of AMT Coffee.

"We have always kept challenging ourselves and implemented bold initiatives to protect and support what we believed was right, for our customers and our landlords, so we are pleased to lead the way yet again with these new cups and lids. We hope that our message is heard loud and clear this Christmas and New Year by both our customers and competitors, who would have a far bigger impact than we will if they help us make the change." Earlier this year AMT Coffee became the first national coffee chain to secure the Fair Tax Mark accreditation.

The four-year-old certification scheme recognises organisations that pay "the right amount of corporation tax at the right time and in the right place".