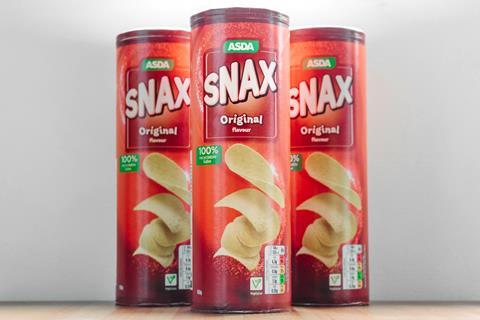 Asda has claimed a supermarket first with the launch of a 100% recyclable crisp tube, moving its entire own-brand Snax range into cardboard packaging.
The move will cut 98.2 tonnes of non-recyclable packaging from Asda's operations each year, the equivalent of 2.34 million crisp tubes.
Previously made from a mix of foil, metal and cardboard materials, the tube was not fit for recycle bins. With the new launch, the only part of the packaging not recyclable is the peel-off lid.
Asda said the lid was necessary to keep the crisps fresh and it was "continuing to work hard" to find a recyclable solution.
The new Snax products, made by Kolak Snack Foods, come in two varieties – Original and Sour Cream & Onion – and are available in shop and online.
"We're really excited to launch this new packaging as we've been continuing to work hard with our supplier to introduce a solution for our crisp tubes that's easy and simple for our customers to recycle," said own-brand packaging development manager Fiona Dobson.
She added the switch was part of Asda's accelerated commitment to reduce own-brand plastic packaging by 15% by 2021.
"We are passionate about delivering our commitment to customers to use less and recycle more," she said. "Our customers love this product but we also know they are becoming increasingly more aware about environmental plastic pollution, which is why we have made the decision to change this packaging so they do not have to choose between living sustainably and shopping with ease."
Asda recently announced the removal of plastic forks from its salads and protein bowls, saving an additional 41 tonnes of plastic a year and more than 24.5 million utensils as part of its environmental ambitions.
At the end of last year, the supermarket also committed to reaching 30% recycled content in its plastic packaging by the end of 2020, five years ahead of its original deadline.