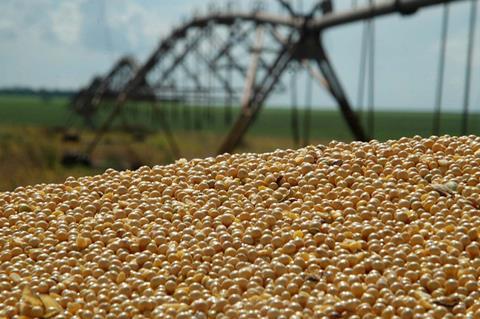 Tesco, Sainsbury's and Asda, as well as major supply partners such as 2 Sisters and Mars, have signed an open letter to the Brazilian government urging it to protect the Amazon rainforest from further deforestation for soy production.

It comes after Brazilian soy farmers, who claim to have the support of president Jair Bolsonaro, started a campaign last month to end the voluntary ban on trading crops harvested from newly cleared land.

The Amazon Soy Moratorium (ASM), established in 2006 between commodity traders, the Brazilian government and Greenpeace, is a voluntary agreement not to buy soy from areas deforested after 2008.

Bolsonaro has faced heavy criticism from the international community for calling for increased economic development of the Amazon, despite fires burning parts of the rainforest during the summer, with many started by farmers to clear land for crops.

The letter to Brazil's government stressed the importance of continuing to uphold the soy moratorium.

Along with Tesco, Sainsbury's and Asda, other supermarket signatories include Morrisons, Waitrose, M&S, Aldi, Lidl, the Co-op and Iceland, plus European counterparts such as Carrefour, Ahold Delhaize and Metro. Meat suppliers such as 2 Sisters, Cranswick, Hilton Food, Tulip and Moy Park have also put their names to the letter, as well as other suppliers such as Mars, Yeo Valley, Kerry Group and Princes.
"The Amazon is fundamentally important to life on our planet," the open letter stated. "It hosts over 10% of all biodiversity and promotes climate stability through its role as a carbon sink."

Soy from Brazil is mainly used to feed the animals that make their way on to supermarket shelves, as well as to make human food products such as tofu and soy sauce.

The letter, co-ordinated by Farm Animal Investment Risk & Return Initiative (FAIRR), said that since the ASM was agreed in 2006, soy production in the Amazon had increased 400%, which showed forest protection and agricultural expansion could be compatible.

But it added that deforestation in the Amazon, mostly for cattle ranching, had also continued to grow, with recently released figures from Brazil's government showing that since 2012 it had increased from 460,000 hectares to almost one million in the past year.

"These deeply concerning figures reinforce the importance of continuing to uphold the ASM," the letter said.

"Yet some parties are now questioning whether it should continue. Our position is clear: we want to be able to continue to source from, or invest in, the Brazilian soy industry, but if the ASM is not maintained, this will risk our business with Brazilian soy.

"Today, there is enough existing agricultural land to continue to increase soy production in the Amazon by an additional 600% compared to current figures. We look forward to supporting Brazilian partners to continue their leadership and show that economic development and environmental protection can go hand in hand."

The British Retail Consortium, which also signed the letter and represents many of the signatories, said retailers were concerned deforestation would accelerate if the ASM ended.

BRC head of sustainability Peter Andrews said: "Therefore, we are seeking assurances from the Brazilian government that the Amazon Soy Moratorium will be maintained. Customers expect the products they buy not to harm the environment, and retailers invest heavily in their supply chains to deliver that as far as possible."