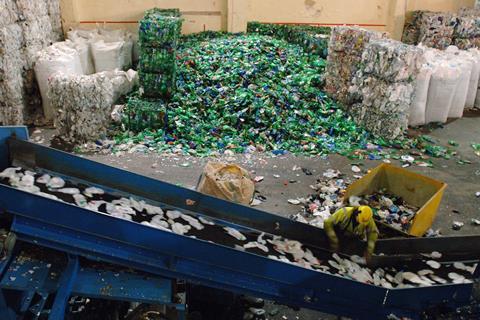 Food and drink bosses are calling for urgent talks with government after claiming their calls for intervention in the PRN recycling cost crisis have fallen on deaf ears.

There is growing frustration at the lack of action, after a planned meeting with ministers, to discuss huge increases in costs to companies for Packaging Recovery Notes to waste processors, was shelved.
Groups including the Food and Drink Sector Council, the FDF and the BRC wrote to the government last summer calling for action, but the general election and Brexit is believed to have shunted the issue down the pecking order.

With the PRN system set for a major shake-up under the Environment Bill and the move to extended producer responsibilities, industry leaders are warning that the government cannot afford to ignore an issue that is threatening to cripple some companies.

"Since July last year, FDF, together with other organisations covering the packaging value chain, have written to ministers on several occasions about the major and unbudgeted costs businesses have been facing from increasing PRN prices, and calling for an urgent meeting to discuss solutions," said an FDF spokeswoman. "We would urge the government to signal its intent to bring in such a mechanism as soon as possible."

She added: "Following the cancellation of a ministerial meeting planned for November due to the general election, FDF wrote to Defra ministers to underline the urgency of having such a meeting as soon as possible because the situation was adding hundreds of millions of pounds to producer compliance."

The Grocer has spoken to suppliers who say soaring recycling charges under the PRN system have left them facing big holes in their profits.

"The increase in PRN prices over the last 12 months or so has had a big adverse impact on our business," said a plastic bottle supplier. "As a £9m turnover business we used to pay around £15k-£20k per annum for PRNs. Last year that shot up to £130k, which is a massive hit for a business of our size,."

Another supplier said it had seen a 500% increase in costs per tonne from 2017 to 2019.

"PRN costs have risen astronomically in recent months and it is a serious issue," said Gavin Partington, director general of the BSDA. As well as concerns about the cost of PRN, industry bodies are demanding reassurances about where the money goes, amid concerns the income generated had not gone towards recycling infrastructure.

"There are huge concerns among suppliers that this money is just disappearing into a black hole and it is making rich those people who live in the shady edges of the system," said one leading source.