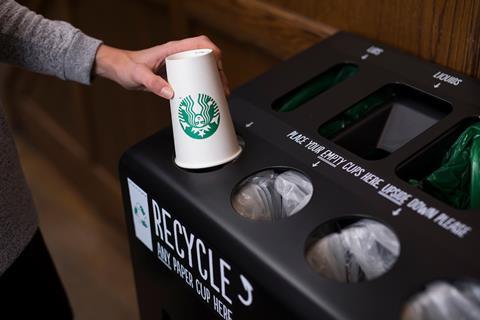 Environment minister George Eustice has slammed "untrue" media reports that the government has ruled out the latte levy, saying it would keep "an open mind" when considering a consumer tax.

He highlighted Chancellor Phillip Hammond's call for evidence to reduce plastic waste in his spring statement in March, adding that examining solutions to disposable cup waste would be an important part of this.

"We want to see a significant reduction in the use of disposable coffee cups. I've seen some reports in the media that have said the government has apparently rejected the latte levy," said Eustice. "This is not true, we genuinely have an open mind. Clearly the 5p single use plastic bag charge has had a big impact and far fewer are being sold today. These types of incentives can change consumer behaviour. The call for evidence is clear that we will consider a levy on disposable cups, we are seeking views on this idea."

Elsewhere in his statement he praised coffee chains for "taking the initiative" when it came to increasing the recycling of paper cups through 'binfrastructure' and reducing cup waste through offering reusable cup discounts.

However, he branded the Environmental Audit Committee's recommendation to ban disposable cups by 2023 unless 100% are recycled as "unobtainable", echoing the government's initial response to the report in March.

EAC chair Mary Creagh blasted the government's unwillingness to ban disposable cups, and urged the government to "move quickly" on its commitments on single use plastic and disposable cups.

"I would say on the disposable coffee cup ban that you have to set a target that's not just realistic, but has to be set just on the right side of impossible if you want industry to make the changes we all want to see," she said.

The EAC has previously criticised the government's reluctance to introduce a 25p latte levy since the disposable cup report was published in March.

The government's initial response to the EAC report seemed to focus heavily on the voluntary commitments of coffee chains rather than being in favour of a consumer tax to cut cup waste.