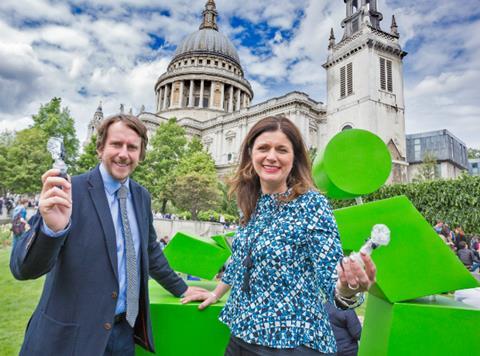 Harrogate Spring has teamed up with Keep Britain Tidy for 'The Incredible Shrinking Bottle', a campaign to promote greater recycling of plastic water bottles when outdoors.
Using the strapline 'twist it, cap it, recycle it', it encourages on-the-go Brits to avoid disposing of their bottles in street bins, and instead crush them to be taken home for recycling.
"While 95% of consumers are likely to recycle at home, this falls by more than half when they are out," said Keep Britain Tidy chief executive Allison Ogden-Newton. A PET water bottle was "one of the best examples of easily recyclable packaging, with every part of the product 100% recyclable", she added. "It is very easy to twist and shrink to a compact size to take home for recycling."
The new initiative will see the addition of The Incredible Shrinking Bottle symbol to Harrogate Spring's PET bottle – which earlier this year added Keep Britain Tidy's revamped Tidyman logo. "Once you have twisted and crushed a bottle, it becomes irresistible not to twist and crush another to see just how small you can make it," said the water brand's marketing manager Nicky Cain.