Bees and other pollinators are vital for UK food production, but they're under threat. Is the food industry doing enough to help protect them?
Towards the end of last month, the UK government sentenced a bee to death. It was a rare species of Turkish bee, which had been accidentally carried home in a British family's luggage. But, in a twist of fate, the bee escaped the family's home before the government could execute it, sparking concerns it could infect British bees with unknown viruses.
Foreign invaders are, of course, just one of many threats facing UK bee populations.
Insect pollinators, like bees, are responsible for pollinating around £690m worth of UK crops annually. But many species are in long-term decline.
A May report published by WWF and Buglife revealed that climate change, habitat loss, pollution and disease are pushing some bees to extinction. The study, which looked at bee populations in the east of England, found 17 species are now extinct from the area, 25 are threatened and a further 31 are of conservation concern.
If those trends continue, the results could be catastrophic for food production. So what are food and drink brands and retailers doing to help?
It certainly seems that pollinator health – and biodiversity more generally – are creeping up the corporate agenda. On the continent, several retailers have unveiled high-profile awareness campaigns in recent months. Lidl, for example, placed a heavy focus on honey bees in its latest VitaMini campaign in the Netherlands. VitaMinis are a range of soft toy characters, such as 'Aukje Aubergine' and 'Aisha Appel', which are designed to encourage children to eat more healthily. In the latest iteration of its campaign, the retailer has released a special mascot called 'Bibi Bij', to help raise awareness of the plight of bees.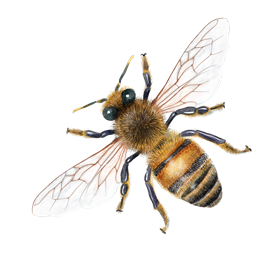 Meanwhile, Delhaize has an ongoing campaign called 'The Buzzers' in Belgium, to raise awareness of the importance of bees. From June to August, the retailer ran a promotion whereby shoppers received a sticker pack of Buzzers characters for every €20 purchase made. It also recently released an entertainment app, which can be used to scan the stickers, causing the characters to "come to life".
And in May, McDonald's built a mini 'McHive' in Sweden. This was a to-scale replica of a McDonald's restaurant built as a functional beehive. The hive is a collaboration between McDonald's and Nordic creative agency Nord DDB, to draw attention to the fact that several Swedish McDonald's restaurants have placed hives on their roofs and hope to inspire others to follow suit.
In the UK, too, bees are an important focus. Bee health has been part and parcel of many fmcg brands' sustainability plans for years, with initiatives such as the planting of wildflower meadows and programmes to reduce pesticide use.
In numbers
£690m
The value of crops that insects, including bees, pollinate every year
33%
The proportion of the UK's bee population that has disappeared over the past decade
97%
The amount of UK wildflower meadow that has been lost since the 1930s
Bee-friendly retailers
Asda has been working with seed company Syngenta to plant biodiversity plots on unused headlands at the supermarket's potato growers' farms. "The Green Headland Mix is sown in areas that typically would be left uncropped and bare, vulnerable to soil erosion," says Asda media relations manager Tom Henson. "Instead, it produces wildflowers that provide food and habitation for pollinators and other insects."
The results so far are encouraging, adds Henson. "Over three years, we've counted 90,000 insects at our 10 farms, including a number of rare and endangered species, including the squat furrow bee – classified as rare – and the ashy furrow bee, classified as endangered. We've also seen that our farmers are able to reduce the amount of plant protection products such as pesticides they use, because more insects are around to eat pests like aphids, as well as reduce the amount of fertiliser required."
Morrisons is also doing its part. The retailer says its 'Project Pollinator' scheme to set aside land for bees has seen numbers increase by up to 55% year on year. The retailer introduced the scheme following growing concerns about the decline in wild bees throughout the UK, echoed in a recent UN report on potential bee mass extinction.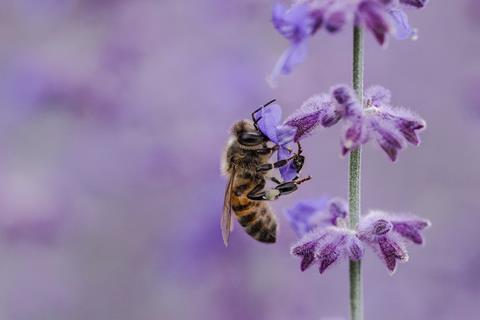 Initially launched with Morrisons' free-range egg farmers, the scheme has so far seen 57 acres of bee-friendly pollen and nectar-rich habitat planted across the UK. Eighty per cent of the farms supplying directly into Morrisons Chippendale egg packing site in Yorkshire have now subscribed to the project, and the Morrisons agriculture team has worked with the Bumblebee Conservation Trust to formulate a unique bee-friendly flower mixture to boost bee numbers.
It's not just retailers launching bee-friendly schemes; suppliers of all sizes are also getting on board. A group of farmers from the Arla Foods dairy co-operative launched a trial initiative in June to see whether their efforts for environmentally friendly dairy farming could be broadened to help increase wild bee populations, given the crucial role they play in supporting our ecosystems.
Meanwhile, London meadery Gosnells will be helping to choreograph a high-level session on bees next year – not just honey bees, but wild bees as well.
The idea is to look at the importance of bees in agriculture and food supply, bees' potential for helping mental health, and the massive potential in cities for more bee-friendly plants and trees on city rooftops, windowsills and gardens.
The event will be aimed at farmers, fruit growers, foresters, Defra, retailers and foodservice companies. Gosnells is also looking to bring on board a "top university", to bring together speakers on a "thought-provoking smorgasbord of subjects".
Training beekeepers
Others are approaching the issue from an education angle. If honey bee populations are to thrive long-term, it's vital the UK has enough professionally trained beekeepers. That's why Eat Natural has an ongoing campaign called 'Pollenation', which first launched in 2016. As part of the initiative, the fruit and nut bar brand recruits and trains beekeepers to look after its hives. It started with 25 beekeepers and now has more than 100. "This project is close to our heart because the fact is, without the honey bee there wouldn't be any delicious ingredients for our bars and breakfasts," says a spokeswoman.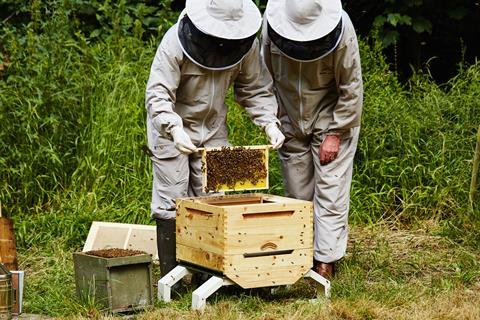 Some brands have even launched specific bee-friendly products.
Last month, Papa John's UK created a buzz when it launched a novelty "pizza for bees" – the 'Beezza'.
The one-inch pizza is covered in flowers and was launched in celebration of its latest NPD – the Bee Sting Pizza.
"Bees are an integral part of our ecosystem and they need to be protected," says Giles Codd, UK marketing director. "The bee is a creature that the pizza world owes everything to, as the most effective pollinator of tomatoes. This tiny flying insect allows us to keep up with the global demand for tomato-based products such as our pizza sauce."
Papa John's has also switched its online charity partner to the Bumblebee Conservation Trust from 15 July to 1 September, in order to further raise awareness of the issue.
Consumer awareness
Brands and retailers are ramping up their bee-friendly efforts because shopper interest in biodiversity is rising, says British Honey sales director Oliver Williams. Information about pollinator health is becoming more readily available and "people are realising how important bees are to the planet".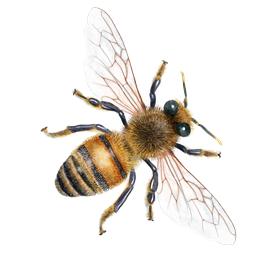 "We are constantly thinking about ways that we can get consumers involved, with seed packets and planting wildflowers at home," he adds. "And [this sort of activity is] definitely on the rise. It's really important because everyone knows bees are our main pollinators."
There was a spike in interest in March this year, following the publication of a Centre for Ecology & Hydrology-led paper on widespread declines in wild pollinators. Catherine Jones, a pollinator officer at conservation charity Buglife, adds there has been an increase in media coverage of insect health more generally over the past year – and this is set to continue.
This rise in consumer interest means brands and retailers have much to gain from making a stand on bees, believe experts, whether by running consumer-facing campaigns in the vein of Lidl Netherlands and Delhaize or by taking action in the supply chain by encouraging farmers to plant more flowers.
The government, too, is poised to increase its action on bees. 'For too long nature has been in decline at home and abroad, putting wildlife at risk and undermining our economy and our wellbeing,' it said in its draft Environment Bill. The 25-year Environment Plan is further expected to shine a spotlight on bees, promising to restore wildflower habitats and a build a 'Nature Recovery Network'. "We will have lots of legislation coming up when the Brexit issue is sorted out," believes Jones.
"The situation is pretty dire. We need pollinators to provide food"
"The situation is pretty dire. We need pollinators to provide the food we need, and if anybody can do anything to help, that is fabulous," she adds. "Whether that's individuals planting flowers in their garden or farmers and food producers creating an agricultural environment that's good for pollinators, or retailers and food producers considering pollinators in their buying and selling operations.
"There is some action that individuals, the government and retailers are doing, but as is always the case, everybody could always do more to help."
Types of pollinators
Bees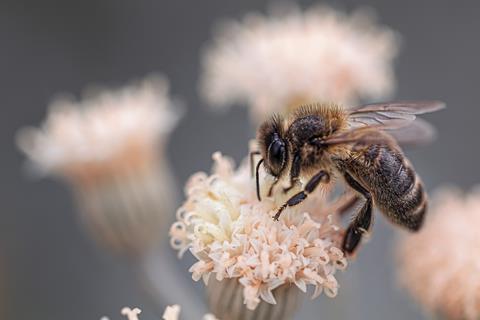 There are around 270 different species of bee in the UK, according to Friends of the Earth. The majority of UK honeybees live in hives that are managed by beekeepers. There are also 24 different species of bumblebee and around 250 species of solitary bee. Every species of bee can be an effective pollinator, and the majority are in decline.
Moths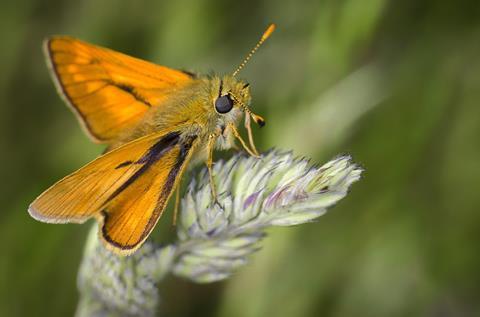 A study published last year discovered that moths may play a much broader role as plant pollinators than scientists had previously thought, pollinating many of the same flowers by night as bees and butterflies. There are around 2,500 species present in the UK and Ireland. But around two-thirds of our moths are in long-term decline, according to Buglife.
Butterflies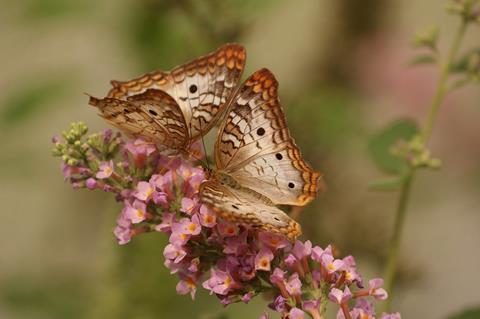 There are thought to be 59 species of butterfly in the UK. Around three quarters of these are in decline. Butterfly-pollinated flowers tend to be pink or lavender coloured, scented and with large petals for the butterfly to land on, according to the Pesticide Action Network UK. Although not as efficient as bees, they can often travel larger distances.
Hoverflies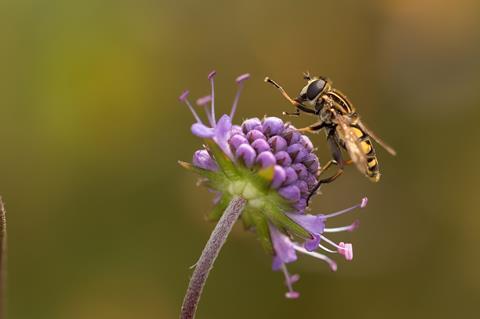 There are around 280 species of hoverfly native to the UK. They are an example of 'Batesian mimicry', where a harmless species mimics a dangerous one. Hoverflies visit flowers to feed on nectar and/or pollen depending on the species, therefore helping pollinate these plants – though they don't tend to be as effective at pollination as bees.
Wasps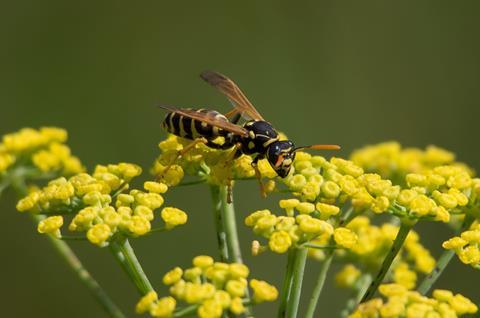 There are more than 7,000 species of wasp living in the UK and, though their contribution may not be as big as bees, they still play a valuable part as specialist pollinators. The relationship between figs and fig wasps, for example, is highly symbiotic. Without one, the other cannot complete its own lifecycle.