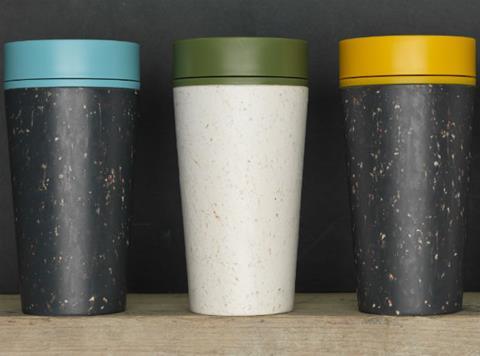 Waitrose and John Lewis are introducing the world's first reusable cup made from recycled cups next week.

The John Lewis Partnership is stocking the rCup (rsp: £12) in line with its series of environmentally-conscious changes in a bid to help reduce the more than 52 million takeaway cups used in the UK each year.

Designed by a team of recycling and closed-loop product design experts, headed up by eco products company Ashortwalk, rCups will last more than 10 years, and are 100% recyclable. They are 100% leak proof, insulated, and with 360° drinking, rather than a small hole.

Waitrose is in the process of branding the cups for its stores.

Waitrose's steps to become more environmentally friendly include only serving complimentary hot drinks through self-service machines and ending the initiative in its cafés, as well as removing disposal cups by the autumn.

"We're delighted to be offering our shoppers the opportunity to buy these innovative and environmentally-friendly coffee cups. Not only do they have a great design, but are reducing waste too," said Waitrose buyer, Tracey May.

"We have made significant progress in reducing our impact on the environment and while we know we still have work to do, introducing practical innovations like the rCup helps that continue. Our decision to remove disposable takeaway cups from our shops by autumn this year has been supported by the vast majority of our customers so we are confident the new cup will be extremely popular."

Dan Dicker, founder and MD of Ashortwalk, added: "Most paper cups aren't recycled because they have a plastic lining that makes them difficult to recycle within traditional paper mills. We use the whole cup, including the lid, to create a robust polymer, which is used to make the strong, reusable rCup. By making products from used cups we create a demand for the once worthless paper cup, which in turn creates a reason for recycling firms to process the cups."

He said both retailers and consumers are "increasingly aware of the waste implication of single use products", and looking for ways to avoid them. "The rCup fulfils the need for a reusable product, but it is also made from recycled material so helps to reduce waste," Dicker added.