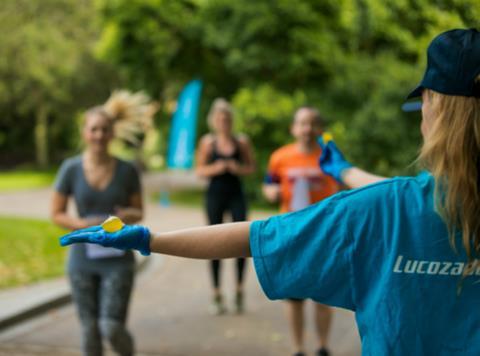 Lucozade Sport is preparing to trial plastic-free drinks and gels encased in an edible pod.
The energy brand has teamed up with Skipping Rocks Lab, a sustainable packaging startup, to hand out samples encased in flavourless Ooho, a material made from seaweed extract. It can be eaten and is compostable, naturally biodegrading in four to six weeks – "just as quickly as a piece of fruit" according to Lucozade.
Ooho pods filled with Lucozade Sport drinks and energy gels will be given away at Richmond Marathon on 16 September and at Tough Mudder in West Sussex on 29 September, as part of brand owner Lucozade Ribena Suntory's work "to better understand the long-term opportunity for plastic alternatives at mass-participation sporting events".
The edible pods were "a completely new and exciting way to deliver the UK's favourite sports drink to our consumers" said LRS head of marketing Lucy Grogut. "They offer us a hugely exciting opportunity to reduce plastic use in the long-term, especially at mass-participation sporting events. As a company, we are always striving to do the right thing and this partnership is a positive step in becoming more sustainable."
The Ooho trial is LRS's latest move to address concerns about the environmental effect of single-use plastics. The company was one of nearly 50 founding signatories of the UK Plastics Pact, spearheaded by Wrap to cut plastic use in stores and across the supply chain.
LRS is also rolling out its Global Innovation Challenge – "a call to all innovators and entrepreneurs around the world to find practical solutions to help the company move beyond plastic".
Lucozade's new partnership with Skipping Rocks Lab comes after Selfridges claimed a world first in March by adding an edible water 'bottle' made from Ooho. The spheres are filled with filtered London tap water in plain, blackcurrant, charcoal & lime juice, strawberry & rose flavours.
In August, booze giant Diageo unveiled flavoured edible drinking straws as part of its global commitment to phasing out the use of plastic straws and stirrers.