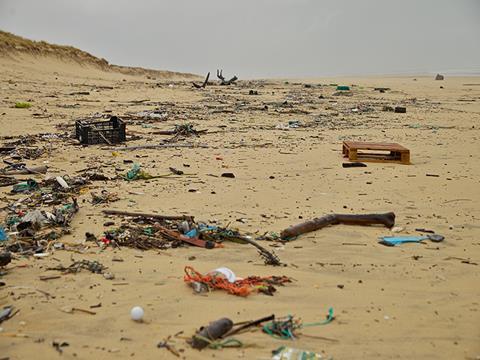 There's no place to hide for backward supermarkets that continue to pack their goods in unnecessary, unwanted packaging. Blue Planet has unleashed a wave of citizen anger, dubbed 'plastic reaction', and there's no holding it back.
Waitrose should have been mortified by the demonstration at its Keynsham store near Bath where protesters ripped the excess wrapping off their goods and dumped it at the tills, generating a vivid picture opportunity that was picked up by press and social media. Tesco has been similarly humiliated, but few consumers believe that it occupies the moral high ground anyway. Waitrose meanwhile presents as more progressive, yet its stores are one shimmering sea of plastic.
M&S is easily the worst, though, when it comes to packaging, displaying a Marie Antoinette indifference to the plastic outcry. Many of its products are so ludicrously over-wrapped that it would almost be laughable, were it not that mountains of this stuff ends up giving off noxious gas in landfill or choking the fish that swim our oceans.
M&S was deservedly taken to task on Twitter recently for its ridiculous, typically overpriced 'Baby Rockit apples', which it sells in a stiff plastic carton of the kind normally used for tennis balls. Why such plastic overkill? A carton is a vehicle for M&S's meaningless marketing drivel, phrases such as 'Perfect Pick' and 'Exclusively Grown for M&S', which add value and allow the said apples to be sold for an inflated price.
So @marksandspencer clearly didn't learn from the backlash over apples in tubes… MORE FRUIT TUBES HAVE APPEARED 🙄 Unbelievable! 🤦‍♀️ Come on M&S, what happened to PlanA? #pointlessplastics #25yep #STOPthePlasticTide #plasticfreecoastlines #PlasticFreeAisle #plasticpollution pic.twitter.com/VeUFEtiVby

— Nathalie Swain-Diaz (@Nat_Nature) January 12, 2018
Somehow or other M&S has convinced many British shoppers that its products are a cut above the rest. Based on my systematic taste and quality comparisons, I'd say M&S is average or mediocre in the supermarket stakes, no more. In a petrol station recently I had to walk M&S's down-market confectionery gauntlet of Percy Pigs et al. All it lacked was an M&S 'Simply Sugar' banner. How on earth does M&S get away with its brazen premium positioning?
Waitrose, on the other hand, builds it reputation on being more progressive on everything, using its Duchy Originals organic brand as a green halo around all its activities. But both Waitrose and M&S should look out. If you act high-end, then behave high-end. Your profligate packaging addiction could yet be your nemesis.
Joanna Blythman is a journalist and author of Swallow This