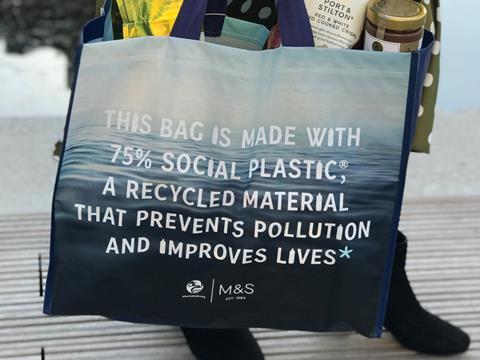 M&S has launched an eco-shopping bag made with recycled plastic it says will help prevent waste and reduce poverty.

The reusable bag, which debuts tomorrow (6 November), is made from 75% plastic that has been collected and recycled by social enterprise Plastic Bank.

Plastic Bank encourages people in Haiti and the Philippines, which it said are both highly polluted with plastic, to collect waste and take it to one of its recycling centres in return for a wage. Those who collect the plastic can also exchange it for blockchain digital tokens that can be used to buy essential goods such as food, water, cooking stoves and fuel.

Plastic Bank's 36 recycling centres in Manila, the Philippines, sort the plastics by type and colour and shred it to create flakes. The shreds are then exported to Vietnam where the M&S bags are constructed.

The bags have been launched as part of its pledge to become a zero-waste business by 2025. This has seen the upmarket retailer introduce zero-emissions delivery lorries nationwide to cut its carbon footprint from chilled food deliveries, launch a range of beers and ales made from surplus sandwich bread, and switch from single-use plastic cutlery to Forest Stewardship Council-certified wooden versions.
They cost £1.30 and will be available across M&S's UK stores.

"With more plastic than fish predicted to be in the ocean by 2050, it's vital that we all take action to minimise plastic waste," said M&S product developer Natalie Tate. "We're reducing the amount of plastic we use as a business and developing smart ways to help our customers reduce the amount of plastic they use. This is a strong, sturdy, practical bag to help customers with their shop, but with the added benefit of reducing poverty and preventing more plastic getting into our seas by turning waste plastic into a tangible and reusable item."

Plastic Bank CEO David Katz added: "M&S has powerfully responded to customer demand for sustainable products and created an immediate impact on the lives of our collectors. Thanks to M&S's support, Plastic Bank is empowered to stop more ocean plastic, help more people out of poverty and make responsible production the standard for businesses everywhere."