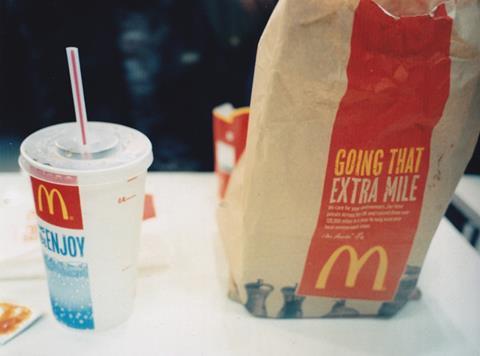 McDonald's is trialling paper straws in selected restaurants in May as part of a drive to boost its environmental credentials.

The fast food giant is also extending the trial to some franchise outlets such as St Paul's in London, and moving its recyclable plastic straws behind the counter.

"The reduction and use of plastics is a hugely important issue - for our business, for the sector and for society," said McDonald's UK CEO Paul Pomroy. "We are committed to reducing our environmental impact and we can, and want to, be part of the solution - our straws are already 100% recyclable, but we know more can be done. That's why we will be piloting paper straws in some restaurants from May.

"Additionally, customers have told us that they want to have to ask for a straw, so we're acting on that and moving them behind the counter. Together with our customers we can do our bit for the environment and use fewer straws."

He added: "We actively encourage and facilitate recycling inside our restaurants. Since 2015, recycling units have been installed in over 1,000 of our UK restaurants, enabling our customers and employees to easily separate packaging for recycling. This includes our straws, which are made from recyclable plastic. We also support a number of anti-littering initiatives across the UK and our own restaurant teams also carry out regular litter patrols in their local areas to stop the spread of litter."

WWF predicts that the UK alone will use 42 billion straws this year, a figure set to increase by 41% by 2030.

McDonald's joins a growing list of food-to-go outlets ditching plastic straws in favour of paper alternatives. Pret a Manger, Costa, Crussh and Leon have all stopped offering plastic straws since the start of the year.

In January, McDonald's committed to making all packaging environmentally sustainable by 2025, using only renewable, recycled or certified sources.

The move comes after the Sunday Times reported that environment secretary Michael Gove had created plans to ban plastic stirrers and drinking straws, which he wants ministers to vote on in the coming weeks.