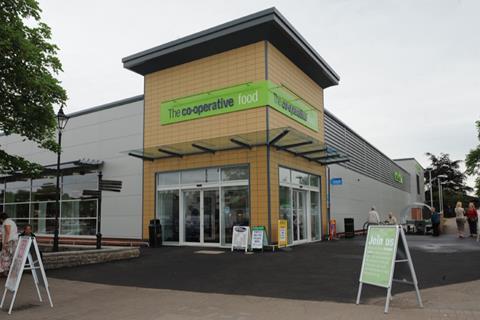 The Midcounties Co-operative has launched an in-store campaign to encourage customers to reduce the amount of single-use plastic they buy.

The initiative named '1Change' asks customers to make one change to their current shopping habits by making plastic-conscious purchasing decisions.

The campaign is promoted on signage featuring the logo throughout the aisles of 40 of the society's food stores.

Highlighted on the signs are some of the key changes the retailer is making to reduce single-use plastic such as: "Make one change. Help reduce waste by choosing a Co-op pizza, no longer served with plastic discs."

Other messages include advising shoppers to bring in their own container to use at the deli counters, sharing information on Co-op products such as tomatoes that are now in cardboard packaging and choosing loose fruit and vegetables.
"We recently conducted a sample survey among our 700,000 members and the vast majority of respondents said reducing plastic is a high priority, so we've implemented the 1Change initiative to help us and them to do so," said Mike Pickering, Co-operative social responsibility manager.

"We have been working hard to raise awareness of the important issues of waste, plastic and sustainability, as well as changing our own operations, and 1Change is designed to help us, our members and the next generation deliver tangible results."

Midcounties has also joined the 'Plastic is not fantastic' schools programme and aims to have engaged with 50 schools and educational establishments by 2022. It said the new 1Change strategy also incorporates its ongoing objective to reduce waste in its operations by 20% by 2022 that its says means diverting 3,000 tonnes of operational waste from landfill, saving it £200,000 a year on costs.

Other initiatives it has previously launched include a reverse vending machine at its Chipping Norton store, whereby in exchange for used plastic bottles money will be donated to local primary schools. The same store also runs an 'eco bricks' scheme in which shoppers bring in waste plastic to be used in the production of eco bricks for local projects.